Reconstruction plan according to J. Travlos, Bildlexikon zur Topographie des antiken Athen, Tübingen 1971
See also a reconstruction image from the interior with the position of the lamp of Kallimachos ("a golden lamp which burnt for a year without refilling and had a chimney in the shape of a palm (Pausanias: Guide to Greece I.xxvi.6), i.e. a hollow column with an Aeolic 'reed' capital") www.erechtheion.org
Erechtheion Door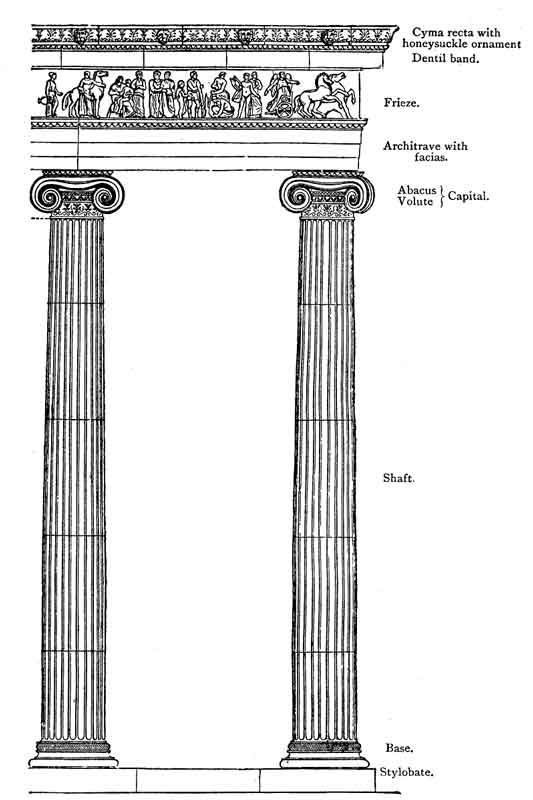 Erechtheion Ionic Columns
A complex design that supposed to represent the legendary contest between Poseidon and Athena for guardianship of the city of Athens. Poseidon sea water representing the Athenian power finally lost the competition with Athenas gift of the olive tree. Poseidon by throwing down his trident created a salt water spring, the Erectheis. The Athenians, dedicated shrines to both deities within the same temple and the name was from Erechtheus a legendary king of Athens. Erechtheus father was Erichthonius, the son of Hephaistus and the Earth (actually Poseidon tried to rape Athena and in the last moment Athena managed to escape and from the semen of Poseidon that impregnated the Earth Erichthonius was produced). That Poseidon and Athena were both worshiped at the same place is one strange story of the religion of the ancient Greeks.
A colored reconstruction image of the Erechtheion from http://www.ne.jp/asahi/daikannw/network/webacropol/erechtheio.html )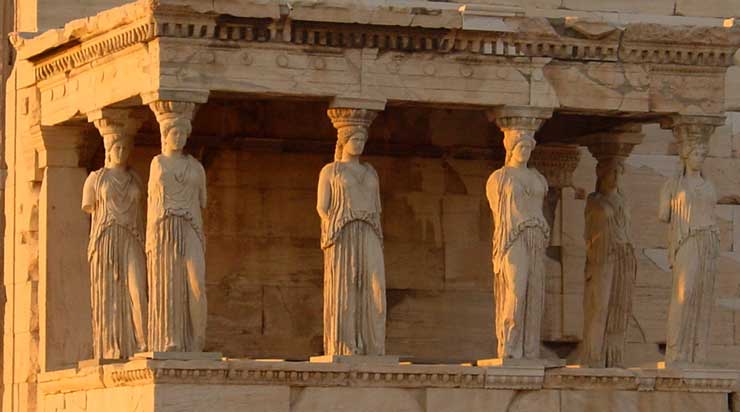 A closer view of the Caryatides, young women wearing a peplos (They are not identical in design!, height c. 2.31). They support the roof of the south porch of the Erechtheion (Caryatid portico, The Porch of the Caryatids). Probably a work of Alcamenes (or Alkamenes), a student of Pheidias. Today only copies of the original Caryatides are shown. The originals are in a Museum. One stolen Caryatis is in the British Museum. (Source)

A view behind a Caryatid of the Erechtheion.
A Erechtheion Kore (3D View) German Page)
In the 7th century AD the Erechtheion was a byzantine Christian church and in 1463 it was used as a house for the Harem of the Turkish commandant of the Acropolis. A British ambassador at Constantinople (Instabul), Thomas Bruce, the 7th Earl of Elgin, "removed" one Caryatid from the Erechtheion (and many other sculptures from the Parthenon) which he sold to the British government. (Elgin Marbles)
Erechtheion (2, 3, 7, 8, 10, 11, 14) Quicktime Movies, a Virtual Tour
Another Image of the Erechtheion
Decoration of the Erechtheion wth Palmettes and "Eggs"
What represent the Caryatides ?
A story about the 6 Korai (girls) of the Erechtheion, known also as Caryatides by Vitruvius:
Unless acquainted with history, an architect will be unable to justify the use of many ornaments that may be introduced. For instance, should any one question the origin of those draped matronal figures crowned with a mutule and cornice, called Caryatides, the explanation lies in the following history. Carya, a city of Peloponnese, joined be Persians in their war against the Greeks. These in return for the treachery, after having freed themselves by a most glorious victory from the intended Persian yoke, unanimously resolved to levy war against the Caryans. Carya was, in consequence, taken and destroyed, its male population extinguished, and its matrons carried into slavery. That these circumstances might be better remembered, and the nature of the triumph perpetuated, the victors portrayed these women as draped, and apparently suffering under the burden with which they were loaded, to expiate the crime of their native city. Thus, in their edifices, did the ancient architects, by the use of these statues, hand down to posterity a memorial of the crime of the Caryans. Vitruvius, The education of an Architect
Another possibility is that they are just architecture elements used for example in the Siphnian Treasury in Delphi (there are doubts that Vitruvius provides a true story)
The Reception of Vitruvius: the Conflation of 'Caryatid' and the Erechtheion 'Korai' in Augustan Rome (PDF File)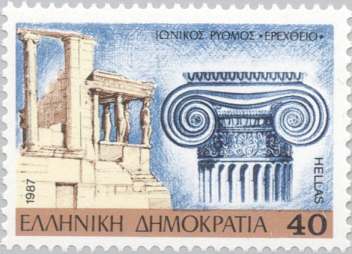 Ionic Order and the Erechtheion, Eyvind Johnson, Nobel Prize Literature 1974 and the Erechtheion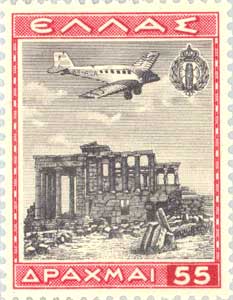 World Heritage - the Acropolis, with the Parthenon and the Erechtheion, United Nations Stamp
Asimo Lidoriki, "Daliana", killed in the Erechtheion 12 January 1827
Alexandra Lesk, "New Images of the Erechtheion by European Travellers, " in Symposium on Mediterranean Archaeology (SOMA) 2003, BAR, in press
A Diachronic Examination of the Erechtheion and Its Reception , Ph.D. thesis of Dr. Alexandra Lesk, http://www.erechtheion.org/
Download a 3D Model of the Erechtheion
Erechtheus and the history of Athens
See an Analemma and the Erechtheion!!!
The Parthenon and the Acropolis
Athena and Kain
Athena' contest with Poseidon on west pediment
Birth of Erichthonius
Athena and Erichthonius
Erechtheus
Layers of civilization: a slab from Erechtheum with a Turkish inscription (in Arabic script) from the period of Ottoman rule. http://classics.furman.edu/foreign_study_good/source/p0002536.shtml
A basket-weave pattern at the base of corinthian columns of the Erechtheum: http://classics.furman.edu/foreign_study_good/source/p0002541.shtml
Varieta and the Caryatid Portico in Daniele Barbaro's Commentaries on Vitruvius (PDF File)
Images
Head of Caryatid from the Treasury of the Knidians, Delphi
Head of Caryatid from the Treasury of the Siphnians, Delphi
Caryatid Porch Saint Pancras Parish Church
Music
Joonas Kokkonen (1921-96) , Erekhtheion