Archaische Griechische Kunst: Der Kouros
Part 2

The Volomandra Kouros (Κούρος της Βολομάνδρας), Athens National Museum since 1906, c. 560 BC, 1.79 m, discovered in 1901 (Ennea Pyrgoi), His Face a Closer Look
Some consider the Kouros something like a grave marker that was used by Aristocrats that could afford these very expensive sculptures. Why their form remained for a long period relatively unchanged before the sudden revolution towards realism (mimesis) has been discussed by many specialists.

The Getty Kouros. Is he smiling because he is a modern and not an ancient Kouros?
Probably the sculptors used some rules (archaic canon). For example the ratio size head/body = 1/6 that was changed to 1/7 by Polycleitus as described in his "canon" and realized with the Doryphoros

One of the Ptoon Kouroi , Kouros 12 (Πτώος Κούρος), c. 530-520 BC from the Sanctuary of Apollo Ptoios on the Ptoon mountain, Boeotia. His Face: A Closer Look

Kouros, Ptoios Apollo Sanctuary,
Dionysermos Louvre Ma3600 (a not nude Kouros like sculpture)
Ptoon Kouros
Ptoon Kouros 515-500 B.C
The Kouros from Thera (Apollo of Thera) National Museum Athens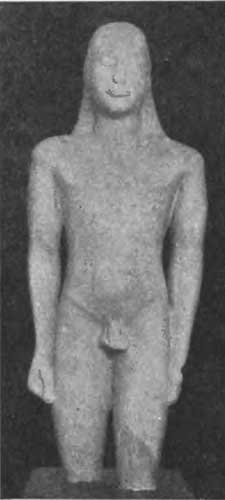 The Kouros (Apollo ) from Orchomenus National Museum Athens
known also as Strangford Apollo
The Dipylon Kouros , The Kouros of Paros ,

The Rampin Horseman (Αναβάτης Ράμπιν) 560-550 BC, see also the Rampin Head (which is in the In Louvre, Paris) and the Torso in the Acropolis Museum in Athens (the head replaced by a copy).
Image of the Head in the Louvre
Greek - Archaic Rampin Horseman another image of the head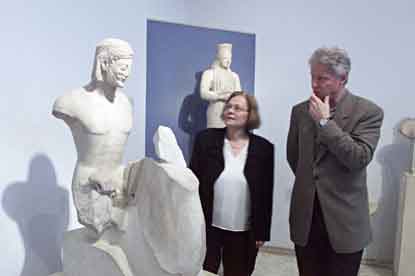 Former US president B. Clinton and the Rampin Horseman (Source)

Kouros from the Asclepeion of Paros, c. 540 BC, Louvre. [Source]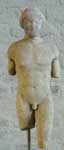 Little Kouros Glyptothek Munich

Kouros of Europos from ancient Europos in the Goumenissa municipality
The Aristodikos Kouros 510-500 BC (National Archaeological Museum of Athens)
Kouros of Piombino (another image) "A Kouros" from the 1st century BC (archaizing)
Imperfection as Perfect Imitation
High Tech Kouros Production Today
The Getty Kouros (Ancient or Modern ? That is the question) History Detectives and Somebody who knows?
The Strangford Apollo probably from the island Anaphe, near Thera (another image of the Strangford Apollo)
Kouros from Melos c. 550 BC marble h. 2.14m.
The Kritios Boy (Παις του Κριτίου) c. 490-480 BC (Acropolis Museum) probably from the sculptor Kritios. A transitional sculpture, towards more realism who marks the end of the Kouros art.
Deborah Tarn Steiner , Images in Mind: Statues in Archaic and Classical Greek Literature and Thought
Princeton University Press 2001
Curiosities
http://www.archaeotext.org/kuroi.htm Comparative studies of the development of the Kuroi representation from an anatomical view,a Text in German for "experts in anatomy"
Nikolaos Kaltsas, Sculpture in the National Archaeological Museum Athens
, J. Paul Getty Museum, 2003, ISBN: 0892366869
John Boardman, Greek Sculpture: The Archaic Period (World of Art)
John Boardman ( June 1985)