Minoische Kunst
Κρήτη τις γαιí έστι, µέσω ενί οίνοπι πόντω, καλή και πίειρα, περίρρυτος· Set like a jewel in the wine dark sea there lies a land called Crete, a rich and lovely land, washed by waves on every side…. Homer, Odyssey, XIX
Bull leaping" fresco (painted plaster) from a wall of the Palace at Knossos. The red figure is probably male (its hands probably not on the back of the bull as it should, maybe so to reduce the height of the image), the white figures female (a color convention in Minoan painting). 17th-15th centuries BC. Origin: Palace of Knossos. Height of restored fresco 78.2 cm. MM III-LM IB period.
Heraklion Museum Inv.no. T 15. Cf. A. Evans, The Palace of Minos at Knossos, vol. III, pp. 209-214.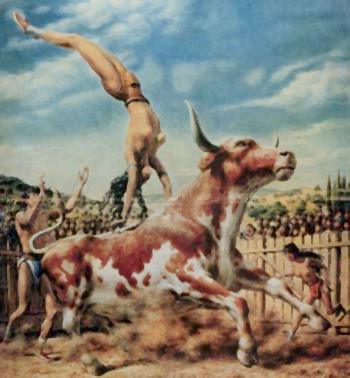 A reconstruction of the dangerous bull leaping game. (Images modified, original from a lecture)
Minoan Golden Seal-Ring
Other atletic games in Crete: gymnastics, boxing , Image from STIGMES, the magazine of Crete http://stigmes.gr/
Knossos. Bull Leaper Figurine. Ivory
A fragment of a Fresco from Mycenae, evidence that the bull leaping game was also a sport of the Mycenaeans
Mycenaean Fresco in Tiryns
Bull, Archaeological Museum Irakleion
Reconstructed Minoan Fresco from Avaris, Egypt.

Crete and the Olympic Games (Website in Greek)
Ancient History Sourcebook: Reports of Minos and Knossos
MYTHS OF CRETE & PRE-HELLENIC EUROPE (or from this Website) (consider that these are views from 1917 !)
Reports in Greek