The mountainous part of Thrace, on this side the river Nestus, which runs through the land of Abdera, breeds among other wild beasts lions, which once attacked the army of Xerxes, and mauled the camels carrying his supplies. Pausanias
Abdera, was a town on the coast of Thrace near the mouth of the Nestos, and not far from the Greek island Thasos., today it is a village part of the municipality of Abdera in the prefecture Xanthi in Greece.
Its mythical foundation was attributed to Heracles, its historical to a colony from Clazomenae in the 7th century BC. But its prosperity dates from 544 BC, when the majority of the people of Teos migrated to Abdera after the Ionian Revolt to escape the Persian yoke (Herod. i. 168).
See also Timesias
Abdera was host to the army of the Persian king Xerxes I (Herodotus 6.46,47; 7.120)
Te chief coin type, a gryphon, is identical with that of Teos; the coinage is noted for the beauty and variety of its reverse types.

Abdera Coin with the Gryphon, 5th century BC
The town seems to have declined in importance after the middle of the 4th century. The air of Abdera was proverbial as causing stupidity; but among its citizens was the philosopher Democritus and Protagoras. The ruins of the town may still be seen on Cape Bulustra; they cover seven small hills, and extend from an eastern to a western harbour; on the southwestern hills are the remains of the medieval settlement of Polystylon (gr. Πολύστυλον). The city was a member of the Delian league.

376 BC destruction by Thracians
350 BC Philip II conquers the city who is under Macedonians control 196 BC. In the following period the Romans and Byzantines followed although Abdera lost its political importance it had in antiquity.
Hellenistic and Roman house with central paved courtyard in Abdera [Source]
Abdera's West gate as seen from the East. [Source]
Abdera is a titular see in the province of Rhodope on the southern coast of Thrace, now called Bouloustra, Boloustra, Voloustra or Vouloustra (gr. Μπουλούστρα, Μπολούστρα, Βολούστρα, Βουλούστρα).

Recently Greek archaeologists discovered in Abdera evidence of a skilled surgeon who practiced skull surgery centuries before Hippocrates. http://www.archaeology.org/0603/abstracts/surgery.html/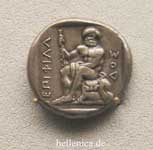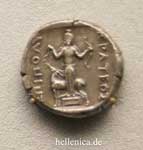 Division of the municipality of Abdera (Δ.δ. : municipal department), population 3917 (2001) :
Abdera / Δ.δ. Αβδήρων [ 1643 ]


Abdera / τα Άβδηρα [ 1229 ]

Giona / η Γκιώνα [ 141 ]

Leukippos / ο Λεύκιππος [ 80 ]

Paidikes Kataskinoseis / οι Παιδικές Κατασκηνώσεις [ 0 ]

Pezoula / η Πεζούλα [ 150 ]

Skala Avdiron / η Σκάλα Αβδήρων [ 43 ]


Mandra / Δ.δ. Μάνδρας -- η Μάνδρα [ 596 ]

Myrodaton / Δ.δ. Μυρωδάτου [ 587 ]


Myrodaton / το Μυρωδάτον [ 586 ]

Erodios / ο Ερωδιός [ 1 ]


Nea Kessani / Δ.δ. Νέας Κεσσάνης [ 1091 ]


Nea Kessani / η Νέα Κεσσάνη [ 550 ]

Lagos / ο Λάγος [ 394 ]

Loutra Potamias / τα Λουτρά Ποταμιάς [ 0 ]

Potamia / η Ποταμιά [ 147 ]

Retrieved from "http://en.wikipedia.org"
All text is available under the terms of the GNU Free Documentation License

Ancient Greece

Medieval Greece / Byzantine Empire

Modern Greece

Science, Technology , Medicine , Warfare
, Biographies , Life , Cities/Places/Maps , Arts , Literature , Philosophy ,Olympics, Mythology , History , Images

Science, Technology, Arts
, Warfare , Literature, Biographies
Icons, History

Cities, Islands, Regions, Fauna/Flora ,
Biographies , History , Warfare
Science/Technology, Literature, Music , Arts , Film/Actors , Sport , Fashion