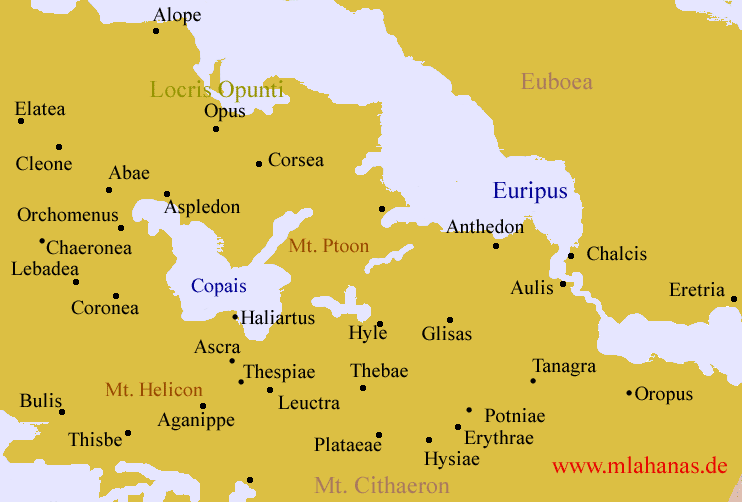 Tanagra (Greek: Τανάγρα) is a community north of Athens in Boeotia, not far from Thebes.(Thebae) It is today known for its mass-produced mold-cast and fired terracotta figurines in antiquity. Tanagra figurines were produced mainly around 340-200 BC (not only in Tanagra but also in other places such as Athens). They were discovered around 1870. Women were mainly represented. Sculptors who produced small figurines of women were called coroplasts (from kore the girl and plastein to sculpt).

Stele of Dermys and Kitylos, dedicated by Amphalkes to Dermys and Kitylos from Kokali necropolis in Tanagra, early 6th century BC, National Archaeological Museum Athens NM 56
It was the site of two Battles of Tanagra, in 457 BC and 426 BC.

Woman holding a theatrical mask. Terracotta figurine made in Tanagra, ca. 325–300 BC, Louvre, Department of Greek, Etruscan and Roman Antiquities (MNB 555) [Source]
Ancient Greece

Medieval Greece / Byzantine Empire

Modern Greece

Science, Technology , Medicine , Warfare
, Biographies , Life , Cities/Places/Maps , Arts , Literature , Philosophy ,Olympics, Mythology , History , Images

Science, Technology, Arts
, Warfare , Literature, Biographies
Icons, History

Cities, Islands, Regions, Fauna/Flora ,
Biographies , History , Warfare
Science/Technology, Literature, Music , Arts , Film/Actors , Sport , Fashion