Hunde im antiken und modernen Griechenland
...among which it is reported that Xanthippus, the father of Pericles, had a dog that would not endure to stay behind, but leaped into the sea, and swam along by the galley's side till he came to the island of Salamis, where he fainted away and died, and that spot in the island, which is still called the Dog's Grave, is said to be his.
Mythology
)
Stories
Alcibiades had a dog which cost him seventy minas *, and was a very large one, and very handsome. His tail, which was his principal ornament, he caused to be cut off, and his acquaintances exclaiming at him for it, and telling him that all Athens was sorry for the dog, and cried out upon him for this action, he laughed, and said, "Just what I wanted has happened then. I wished the Athenians to talk about this, that they might not say something worse of me.", Plutarch Alcibiades (* seven thousand drachmae, the salary was 1 drachma or less for a worker)
Pythagoras: When he saw that a young dog was beaten he said: Stop beating the dog who has the soul of a friend that I recognized.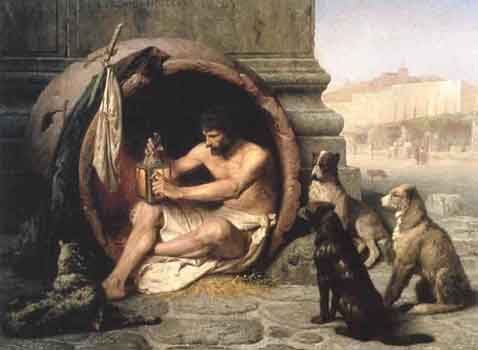 Diogenes, Jean-Léon Gérôme, 1860, Walters Art Museum, USA
The Philosopher (Perseus)
Some Comments of Aristotle about dogs, (The author has forgotten the most important name: Argos, the dog of Odysseus)
Attic Stele, left inscription "Polyeuktos", right "Philocrates", a young boy with a typical one-wheel toy
Reports in Greek
Έξοδος 22:31, Ιώβ 30:1, Α' Σαμουήλ 24:15)
Στην Αγία Γραφή υπάρχουν αρκετές αναφορές για σκύλους που περιέρχονται στους αγρούς και τους δρόμους για να τραφούν από πτώματα και απορρίμματα κρεάτων (Α' Βασιλέων 14:11, 16:4, 21:19), για το λόγο αυτό ήταν ζώα αντιπαθή (Ψαλμός 22:16,20, Ιερεμίας 15:3). Πολλές φορές όμως χρησίμευαν στη φύλαξη κοπαδιών προβάτων (Ιώβ 30:1). Μεταφορικά ο απ. Παύλος ονομάζει τους ψευτοδιδασκάλους "κύνες" (Φιλιππησίους 3:2), ενώ όσοι θα βρεθούν έξω από τη βασιλεία των ουρανών χαρακτηρίζονται "κύνες", λόγω τις αμαρτωλής τους ζωής (Αποκάλυψη 22:15). Source: http://www.jesuslovesyou.gr/Bible_club/Encyclopedia/Zoo/Animal_2.htm
and
Links