Time Measurements
I will provide soon information about the units of time used by ancient Greeks. Only some funny remarks at the moment is that ancient Greeks used also in principle liquid measures for time measurements since as we know time "flows". Using the clepsydra as a clock one could define the time by the amount of water that is required to empty a filled container with a hole in the bottom that allowed the water to escape which is approximately 4 minutes for 3 liters.
Using also the shadow length it was common for ancient Greeks to say that they will meet at a specific time that is given as the length of a shadow shown by a sundial. In Aristophanes' Ecclesiazusae, in the 4th century BC, a person says that he determines dinner time by the length of a gnomon's shadow.
SUN dials
Greek scaphe dial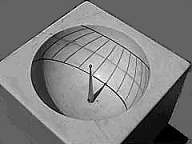 The scaphe dial, probably the oldest form of sundials. Scaphe (Greek boat) a bowl-shaped cup within which the hour-lines are marked. At the time of summer solstice the shadow is shortest and falls exactly on the bottom line. In the following time the shadow grows again until it reaches the top line at the time of winter solstice. The days are divided into temporal hours. Their length is not fixed but instead the time between sunrise and sunset is divided into 12 intervals of equal length.
Universal Ring dial
Parmenio of Macedonia constructed the Philippi sundial a portable clock that was also an astronomical instrument. It was used to measure approximate latitude, azimuth and zenith in the distances of the stars. Its diameter was 7cm and a model was discovered by the Greek archaeologist Stylianos Pelekanidis in the Philippi of Macedonia in 1965. It was built in Alexandria and it is mentioned by Vitruvius who also describes other sundials (