Bone Flutes from Laconia, Artemis Orthia Sanctuary, c. second half of 7th century BC
There is a meaning also in the myth of the ancients, which tells how Athene invented the flute and then threw it away. It was not a bad idea of theirs, that the Goddess disliked the instrument because it made the face ugly; but with still more reason may we say that she rejected it because the acquirement of flute-playing contributes nothing to the mind, since to Athene we ascribe both knowledge and art. Aristotle, Politics
Auletes (Aulos player), Phorbeia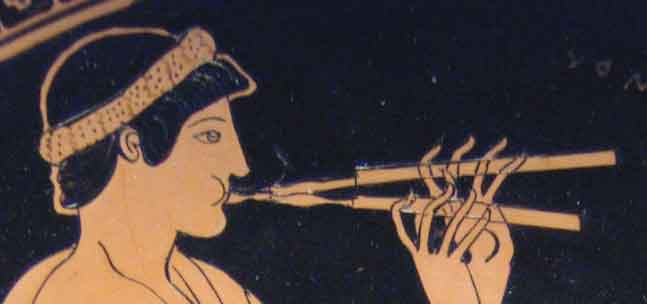 Aulos (αυλός)(Bombyx or Kalamos invented by Athena according to Mythology). Pausanias says that it was invented by Ardalus the son of Hephaistus according to the Troezenians. Dorian Lydian and Phrygian version according to Pausanias. The flute was used by Spartans as a military music instrument. From Diane Touliatos-Miliotis : The Phrygian aulos [is] feminine because it is mournful and threnodic, and of the medial instruments... the Pythian aulos participates more in masculinity because it is grave, and the choric aulos in femininity because of its ease at a high pitch. (according to Aristides Quintilianus ) Aulos Images (common double-reed instrument and the monoaulos), Aristoxenus considers 5 sizes : parthenios (maiden type), paidikos (boy type), kitharisterios (kithara playing type), teleios (complete), and hyperteleios (extra complete) Music lesson, a pupil learns to play the aulos-flute (See: The Aulos and Drama: A Performer's Viewpoint)


The Muse Calliope with a Syrinx
Syrinx (σύριγξ ) (Panpipe (αυλός του Πανός) with usually 7 pipes). Already known in the Cyclades around 2500 BC. According to Mythology Pan fell in love with the waternymph Syrinx. She ran away from him and when she could not cross the river Ladon to escape she asked Artemis to help her. Just as Pan was about to embrace her, Syrinx changed into cattail reeds. Pan holding the marsh reeds sighed in disappointment, causing the wind to blow through the reeds. He was enchanted by the sound, believing it to be the mournful cry of his beloved Syrinx; He produced a set of pipes so that he could have her with him always. (A worldwide history of the Panflute , More about this instrument )
Diaulos (δίαυλος) "Pipe" (two flutes but probably a oboe like instrument. Phorbeia: A type of bandage that held the two flutes in place using two holes in it in which the flutes could be attached.) According to Aristotle (Politics) pipes should not be used in education because pipe music is orgiastic and it hinders the use of one's logos Eric Csapo (Music and the Muses)
Other Instruments

From an Attic stamnos, Naples Museo Archeologico Nazionale
Tympanon (τύμπανο ) A small drum carried in the hand such as shown often in pictures of Maenads in the train of Dionysus (invented by Cybele), Image: Actor with a tympanon
Kroupezion (κρουπέζιον ) probably a kind of Clatter (foot) instrument used by flute players, a metallic piece attached to the sole of the player (podopsophos)
Xylophon, from xylon, wood, and phone voice, (the original name is unknown, but images exists)
Platagh, Platagwgion an invention of Archytas, a child's rattle
A sanctuary of Athena Trumpet they say was founded by Hegeleos. This Hegeleos, according to the story, was the son of Tyrsenus, and Tyrsenus was the son of Heracles and the Lydian woman; Tyrsenus invented the trumpet, and Hegeleos, the son of Tyrsenus, taught the Dorians with Temenus how to play the instrument, and for this reason gave Athena the surname Trumpet. Pausanias, Description of Hellas
Salpinx, Trumpet, Tyrrhenian (western Italy coast) invention , Notatio salpinx? 490 BC (MP3) (Notatio Musicalis), "a warlike and terrifying instrument", Aristides Quintilianus, Image: Salpinx and Hydraulis Player

...experience enabled men to judge what was or was not really conducive to virtue, and they rejected both the flute and several other old-fashioned instruments, such as the Lydian harp, the many-stringed lyre, the 'heptagon,' 'triangle,' 'sambuca,' the like- which are intended only to give pleasure to the hearer, and require extraordinary skill of hand. Aristotle, Politics
Sambyke
Sambyke (sambuca), Invented by Ibykos from Sikyon

Pandoura

Seistron (See Roman version)
Seistron, Prepalatial period , Heraklion Archaeological Museum
Of course this list is far from complete.
Some instruments not classified yet
Pektis (πήκτις), a pear-shaped lute-type instrument a harp (assumed to be a general name for harps)
Plagiaulos (πλαγίαυλος) a side blown flute but probably not commonly used, probably imported from Egypt (or Lybia), another similar instrument was the photinx
Klepsiambos, a nine string instrumens
Psythira (rattles)
Askaulos or Askaules? (from askos and aulos, a bag pipe version) (called aesculus by the Romans according to Dio Chrysostom Nero played such an instrument)
Dancer with krotala (crotala), flute case, and walking stick, Attic red figure kylix, ca. 480 B.C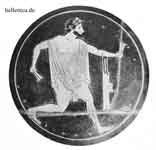 Aeolian Harps, named after the Greek God of Wind, 'Aeolus', first appeared in Grecian culture circa 6 BC, when Orpheus, the 'original' poet, held poetry readings accompanied by the music of Wind Harps. Much later, artisans of the Renaissance era re-discovered Aeolian Harps, fascinated with both their physical and etheric properties. Much experimentation with the Aeolian principle, i.e., the vibration of strings by wind, led to a variety of designs and installations as illustrated by these two towers.(circa 1695 AD) http://www.harmonicwindharps.com/ , The Aeolian Harp . Were such instruments build by the ancient Greeks and if not was the instrument and its name (based on Greek mythology) just invented only in the 17th century?
From the Lyre derived Lyric poetry (a term not used before the Hellenistic times) refers to a song accompanied usually by the lyre (and/or the aulos). Forms of Lyric songs sometimes in combination with dance depending on the occasion are:
Dithyramb, choral song (hymns in honor of Dionysus) at the Dionysia festival, improvised early with the chorus dressed like animals (goats) from which the tragedy (Greek word for song of goats) developed (Herodotus)
Enkomion, praise for some person
Epinikion, song for victory athletic or military "A poet, along with his trained band of singers and musicians, would stand by the altar to the victor's god and offer "prayer, praise, and admonition mingling with the fumes of intoxicating poetry" (Performance of Epinician Odes)
Erotikon, love songs
Hymenaios, wedding songs "Marriage festivals, for example, used a special kind of lyric poetry called the hymeneal, which was sung during the wedding ceremony. After the wedding, the groom took the bride to his house, accompanied by dancers, instrumentalists, and the singing of another hymenaeum " (Example from the Iliad ) (Epithalamion)
Hymn, praise for a god
Hyporcheme, song and dance during sacrifice around an altar
Paean, praise song , traditional hymns to Apollo or Artemis such as described by Homer "These prayers varied in length and were sung both on private occasions, such as dinners or weddings, and on public ones, such as festivals or battles"
Partheneion, songs by chorus of maidens

Phallic songs (phallika)

Prosodion, liturgic, thanksgiving "these were sung at festivals by groups of men and woman carrying flowers, sacred emblems, and sacrifices to the gods. Often, the processions were formal and showy and might have been accompanied by other dancers and chorus singers. The prosodia was a recognized form of religious poetry for which many poets composed and even received rewards at festivals"
Skolion, banquet song "along with the accompaniment of a hired lyre player or piper, the guests took turns singing something—a hymn, a commentary, a piece of advice, anything they wished—or continuing what had been sung by the previous singer"
Threnos funeral song
Monodic Lyric (performed by a single person)
Choral Lyric (performed for the public, (festivals, religious or athletic) by a choir)

Comments by Autumn Gurgel Running head: Roots and Theories of the Doctrine of Ethos


Heracles (Hercules) going to his lessons. He is chaperoned by Linus (some sources say his nanny), who is holding his lyre for him . Heracles teacher of Music was Linus and Eumolpus. Linus tried to punish Heracles who was not a good student but th result was that he was killed by Heracles who could not control his power.
The musical education of the Greeks is stressed by all writers. It must be remembered, however, that the word "music" had a much wider application at that time than it now has. The Greek word mousike at first referred to the arts of the nine Muses. Gradually its meaning was extended to include everything connected with the training of the mind, just as the word gymnastike included everything pertaining to the training of the body. To speak of a Greek as having a good "musical education" is equivalent to saying that he was trained in all the liberal arts, including mathematics. The Greek ideal of education was based upon the idea of universality, of the integration of all branches of learning. "Musical training," Plato said, "is a more potent instrument than any other, because rhythm and harmony find their way into the inward places of the soul, on which they mightily fasten." To this he added gymnastics, insisting, however, that even physical exercise should be performed for the benefit of the soul, since the soul demands a temple worthy of its occupancy. The combination of music and gymnastics, he said, produces a harmonious balance between soul and body. Physical training develops courage and fortitude; music develops a love of the beautiful, and affords the mental and moral discipline necessary to the acquirement of philosophical knowledge. He considered music, however, as the more important of the two, describing it as the fortress of the State. He warned all intelligent rulers to pay careful attention to the development of music in their state, never allowing bad qualities to creep into it, as these would affect the mental and moral stamina of the citizens who listened to it. Finally he insisted that all art be subordinated to ethics and used as a means of moral education.
Ancient Greece

Medieval Greece / Byzantine Empire

Modern Greece

Science, Technology , Medicine , Warfare
, Biographies , Life , Cities/Places/Maps , Arts , Literature , Philosophy ,Olympics, Mythology , History , Images

Science, Technology, Arts
, Warfare , Literature, Biographies
Icons, History

Cities, Islands, Regions, Fauna/Flora ,
Biographies , History , Warfare
Science/Technology, Literature, Music , Arts , Film/Actors , Sport , Fashion