Just so afterwards, when they desired to construct a temple to Diana in a new style of beauty, they translated these footprints into terms characteristic of the slenderness of women, and thus first made a column the thickness of which was only one eighth of its height, so that it might have a taller look. At the foot they substituted the base in place of a shoe; in the capital they placed the volutes, hanging down at the right and left like curly ringlets, and ornamented its front with cymatia and with festoons of fruit arranged in place of hair, while they brought the flutes down the whole shaft, falling like the folds in the robes worn by matrons Vitruvius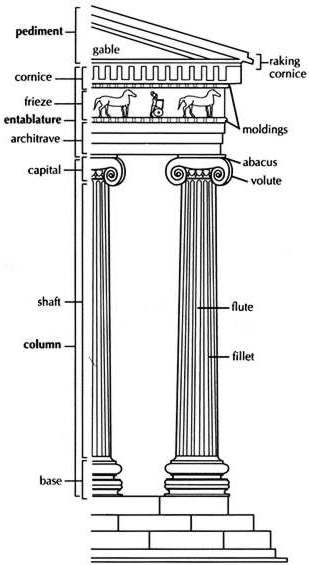 The architrave (less massive than in the Doric order) divided in three bands (fasciae). The entablature divided in the architrave, the frieze and the cornice. In the Ionic order the columns rest on a base whereas in the Doric order they are directly on the crepidoma.
Attic Base of a Ionic column.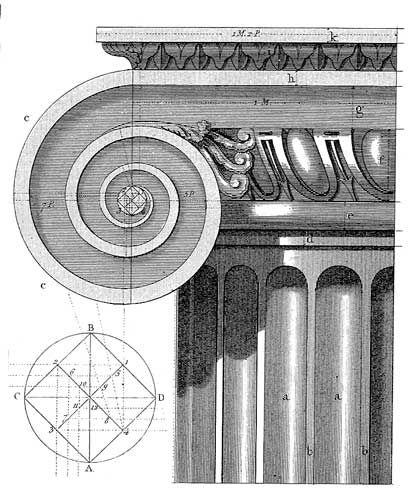 Ionic Column: Volute with the spiral that ends in a circle, the so-called "eye" The column fluted with usually 24 flutes "a" deeper than in the Doric order, separated by a thin bands (fillets, "b"). The volute rests on the echinus decorated with the egg-and-dart ornaments.
Ancient Greece

Medieval Greece / Byzantine Empire

Modern Greece

Science, Technology , Medicine , Warfare
, Biographies , Life , Cities/Places/Maps , Arts , Literature , Philosophy ,Olympics, Mythology , History , Images

Science, Technology, Arts
, Warfare , Literature, Biographies
Icons, History

Cities, Islands, Regions, Fauna/Flora ,
Biographies , History , Warfare
Science/Technology, Literature, Music , Arts , Film/Actors , Sport , Fashion