Nicolas Camille Flammarion (February 26, 1842 in Montigny-le-Roi – June 3, 1925 in Juvisy-sur-Orge) was a French astronomer and author.
Life
Camille Flammarion was born in Montigny-le-Roi, Haute-Marne, France. He was the brother of Ernest Flammarion (1846-1936), founder of the Groupe Flammarion publishing house.
He was a prolific author of more than fifty titles, including popular science works about astronomy, several notable early science fiction novels, and several works about Spiritualism and related topics. He also published the magazine L'Astronomie, starting in 1882. He maintained a private observatory at Juvisy-sur-Orge, France.
French astronomer Camille Flammarion (1842-1925) photographed by Eugène Pirou (1841-1909).
He was a founder and the first president of the Société Astronomique de France, which originally had its own independent journal, BSAF (Bulletin de la Société astronomique de France), first published in 1887. In January, 1895, after 13 volumes of L'Astronomie and 8 of BSAF, the two merged, making L'Astronomie the Bulletin of the Societé. The 1895 volume of the combined journal was numbered 9, to preserve the BSAF volume numbering, but this had the consequence that volumes 9 to 13 of L'Astronomie can each refer to two different publications, five years apart of each other.
He was the first to suggest the names Triton and Amalthea for moons of Neptune and Jupiter, respectively, although these names were not officially adopted until many decades later.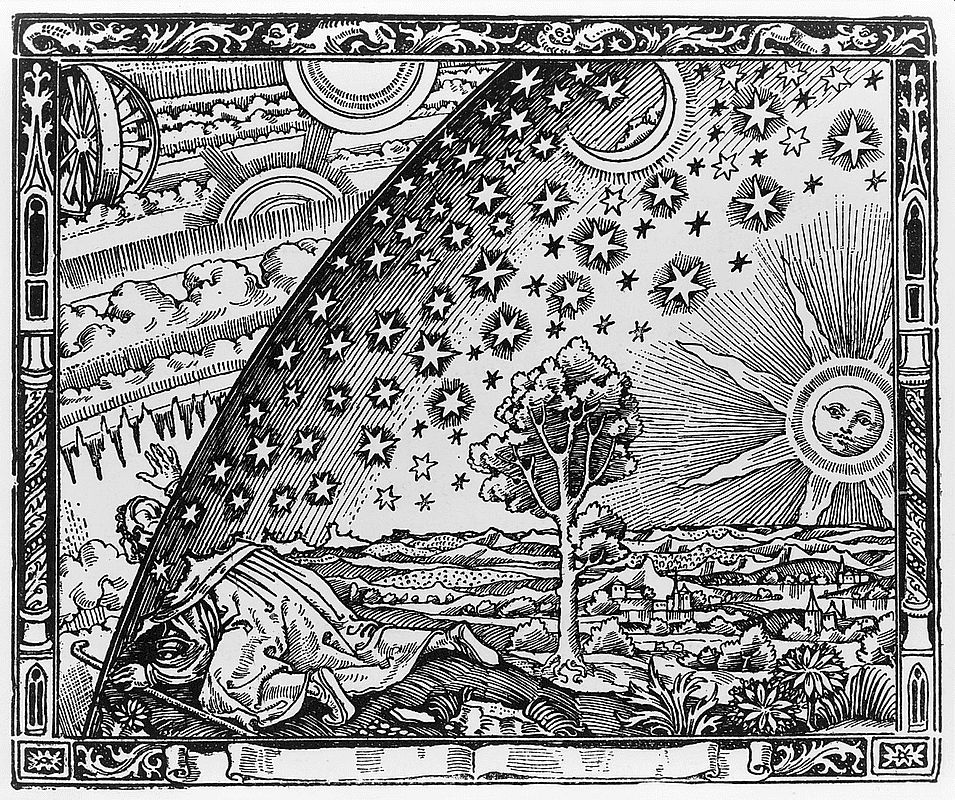 The Flammarion engraving is a wood engraving by an unknown artist, so named because its first documented appearance is in Camille Flammarion's 1888 book L'atmosphère : météorologie populaire ("The Atmosphere: Popular Meteorology"). The wood engraving has often, but erroneously, been referred to as a woodcut. It has been used as a metaphorical illustration of either the scientific or the mystical quests for knowledge. See also: Archytas idea.
Because of his scientific background, he approached spiritualism and reincarnation from the viewpoint of the scientific method, writing, "It is by the scientific method alone that we may make progress in the search for truth. Religious belief must not take the place of impartial analysis. We must be constantly on our guard against illusions.". He was chosen to speak at the funerals of Allan Kardec, founder of Spiritism, on 2 April 1869, when he re-affirmed that "spiritism is not a religion but a science".
His spiritualism studies also influenced some of his science fiction. In "Lumen", a human character meets the soul of an alien, able to cross the universe faster than light, that has been reincarnated on many different worlds, each with their own gallery of organisms and their evolutionary history. Other than that, his writing about other worlds adhered fairly closely to then current ideas in evolutionary theory and astronomy.
His first wife was Sylvie Petiaux-Hugo Flammarion, and his second wife was Gabrielle Renaudot Flammarion, also a noted astronomer.
Works
La pluralité des mondes habités (The Plurality of Inhabited Worlds), 1862.
Real and Imaginary Worlds, 1865.
Lumen, 1867.
Récits de l'infini, 1872.
L'atmosphère: météorologie populaire, 1888.
Astronomie populaire, 1880. His best-selling work, it was translated into English as Popular Astronomy in 1894.
Les Étoiles et les Curiosités du Ciel, 1882. A supplement of the L'Astronomie Populaire works. An observer's handbook of its day.
Uranie, 1890.
La planète Mars et ses conditions d'habitabilité, 1892.
La Fin du Monde (The End of the World), 1893, is a science fiction novel about a comet colliding with the Earth, followed by several million years leading up to the gradual death of the planet. It has recently been brought back into print as Omega: The Last Days of the World. It was adapted into a film in 1931 by Abel Gance.
Honors
Named after him
Flammarion crater on the Moon.
Flammarion crater on Mars.
Asteroids: 1021 Flammario is named in his honour, and it is believed that 107 Camilla derives from Flammarion's first name. In addition, 154 Bertha commemorates his sister; 654 Zelinda his niece; and 87 Sylvia possibly his first wife. 141 Lumen is named after Flammarion's book Lumen: Récits de l'infini; 286 Iclea for the heroine of his novel Uranie; and 605 Juvisia after Juvisy-sur-Orge, France, where his observatory is located.
Retrieved from "http://en.wikipedia.org/"
All text is available under the terms of the GNU Free Documentation License