Galatas playing a bouzouki , 1895, Nikiforos Lytras
BBC Documentary on Rebetika Part 1, Watch the other 9 parts from YouTube
I wrote my book "Rebetika Traghoudhia" twenty–five years ago...I find it very difficult to explain to foreigners exactly what Rebetika songs were. I find it even harder to explain to my fellow Greeks. The Rebetes themselves are dead and gone. Rebetika song these days is not much more than a venerated mummy. Necrophilia does not lead us to an understanding of Rebetika. I used to imagine that one day some Greek college or foundation would gather together all the Rebetika songs into a single body of work, thereby creating the concrete possibility of studying them. It is now evident that I was suffering from excessive optimism. The term "rebetiko" was a forbidden word. I found it impossible to find a publisher for my book "Rebetika Songs" precisely because of its title. It was inadmissible to speak of Rebetes and Rebetika twenty years ago. For me, the price of my decision to publish that blessed book was a five–month prison sentence and a fine divorce. As it happened, prison and the divorce gave me my freedom. Elias Petropoulos, REBETOLOGY, translated by Ed Emery, Published by Kedros, Athens, 1990 , Ο μπαγλαμάς του Τσιτσάνη και χιλιάδες ανέκδοτα τραγούδια

Songs of the Greek Underworld: The Rebetika Tradition
Main music organ of the Rebetiko the Bouzouki from the Turkish bozuk (musical instrument) and Rebetiko from he Turkish rebet (rebel) . Actually there is an entire debate with thousands of scholars and experts discussing the etymology. Music influenced regionally by foreign music due to Turkish occupation of the mainland for over 400 years, similar Italian music influence in islands occupied by Italy.
Performed by Rebetes (men) and Rebetisses (women).
Roza Eskenazy (Ρόζα Εσκενάζυ / Σάρα Σκενάζι.)(1890 Constantinople – 2.12.1980 Athens)
Giorgos Batis (Tsoros) ( Γιώργος Τσωρός, Μπάτης ή Αμπάτης ) (1885 Methana – 10.3.1967 Piraeus) " The King (or Μάγκας) of Piraeus" (Info in Greek)
Iovan Tsaous (1893 - 1942 ( Γιοβάν Τσαούς)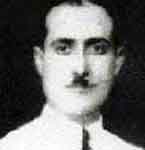 Spyros Peristeris (Σπύρος Περιστέρης) (1900 Smyrna - 1966 Athens)
Rita Abatzi ( Ρίτα Αμπατζή ) 1914 Smyrni – 17.6.1969 Aigaleo)
Kostas Roukounas (Κώστας Ρούκουνας) (1903 Samos - 11.5.1984 Athens)
Markos Vamvakaris (Mάρκος Bαμβακάρης) (10.5.1905 Ano Chora Ermoupolis/ Syros – 8.2.1972 Athens), Φραγκοσυριανή (Fragosyriani) (MP3), Τα ματόκλαδα σου λάμπουν (Ta matoklada sou lamboun), Αντιλαλούνε οι φυλακές (Antilaloun oi fylakes), Vergoules "Γενάρχης του μπουζουκιού, Πατριάρχης του ρεμπέτικου" (Ta NEA in Greek)
Vassilis Tsitsanis ( Βασίλης :σιτσάνης)(18.1.1915 Trikala/Greece – 18.1.1984/Brompton Hospital London/England) (called The Beethoven of Rebetiko but also "Ο βλάχος που παίζει ωραίες καντάδες" ) , Συννεφιασμένη Κυριακή (Synefiasmeni Kyriaki) (MP3), Τα καβουράκια (Ta Kavourakia) (real audio, lyrics Eftichia Papagianopoulou), Εγώ πληρώνω τα μάτια π'αγαπώ (Ego plirono ta matia pagapo) (To Vapori apo tin Persia)(among his around 2000 songs) (Ta NEA in Greek), he considered himself as "a composer and not a rebetis" The grave of Tsitsanis , Tsitsania 2004 (Images)
Marika Ninou (Μαρίκα Νίνου / Ευαγγελία Νικολαΐδου) (1918 Constantinople - 23.2.1957) actually laiko worked with V. Tsitsanis
Δέδυκε μεν α σελάννακαι
ληιάδες· μέσαιδε
ύκτες, παρά δ' έρχετ' ώρα,
γώ δε μόνα κατεύδω. Σαπφώ
Νύχτωσε χωρίς φεγγάρι,
ο σκοτάδι είναι βαθύ
ι όμως ένα παλικάρι
εν μπορεί να κοιμηθεί
Apostolos Kaldaras (Απόστολος Καλδάρας) (7.4.1922 Trikala - 8.4.1990 Athens) Νυχτωσε χωρίς φεγγάρι (Night without moon)(Real Audio), Μάγκας βγήκε για σεργιάνι (Magkas vgike sto serjani), Mi perimeneis pia (Theodoros Kanakarakis MP3) Lyrics (Greek) Laika Souxe
Apostolos Hatzichristos (?), Karotsieri trava
Apostolos Nikolaidis (30.6.1938 Drama – April 1999) (Video Clips, Otan horeveis to tsifteteli, etc.) , Otan kapnizei o loulas

Bayanteras (Dimitris Gogos or Mitsos Gogos) (Δημήτρης Γκόγκος ή Μήτσος Γκόγκος (Μπαγιαντέρας) ) (1903-–1985), Xekina mia Psaropoula, Mesa stis zois ta monopatia, Hatzikyriakio, Zousa monahos horis agapi.
Manolis Chiotis (Μανώλης Χιώτης) (21.3.1921 Thessaloniki (or Nafplio) -20.3.1970) established the Bouzouki with a fourth string and used also an electric amplifier. Should we allow this criminal act which destroyed 5000 years trichord tradition? A radical group of purists says NO! and wants the dechiotification of the Rebetiko."που με το μπουζουκάκι του γλεντούσαν κι οι διαβόλοι" Info in Greek Περασμένες μου αγάπες (Perasmenes mou agapes) (Midi)
Mary Linda (or Mairi Linta) (Maria Dimitrakopoulou)( Μαίρη Λίντα / Μαρία Δημητρακοπούλου ) ( 9.11.1935, Pyrgos / Elis prefecture) Iliovasilemata Gemata Anamniseis (ηλιοβασιλέματα γεμάτα αναμνήσεις ) (Midi. Manolis Chiotis)
Stratos Payoumtzis (1902-1971) Amanes Sabah
Giorgos Mitsakis (Γιώργος Μητσάκης)(?) Συννεφιές (Synnefies), Ψιλή βροχούλα έπιασε (Psili Vrohoula Epiase) (Real Audio)
Yiannis Papaioannou ( Γιάννης Παπαϊωάννου) (18.1.1914 -1972 car accident) Φαληριώτισσα (Faliriotissa), Καπετάν Αντρέας Ζέπος (Kapetan Andrea Zeppos)
Nikos Gounaris (Νίκος Γούναρης) (1915 Zagora/Volos - 5.5.1965) Trio Bel Canto
Tonis Maroudas (18.3.1920 Patra - 22.7.1988) Τι 'ναι αυτό που το λένε αγάπη; (What is this thing they call love?) , Boy and a Dolphin (Sophia Loren)
Kostas Skarvelis (Greek: Κώστας Σκαρβέλης) (Constantinople 1880 - 8.4.1942 Athens)

Website with some old Rebetika in MP3 format (to get a better idea) and information about the artists
Amanes: The Legacy of the Oriental Mother (Some MP3 Examples , low quality)
Institute of Rebetology , the Study of the Rebetiko , Rebetisses (Women Rebetiko artists)
A Greek Site with more information including different etymologies of the name rebetiko
παρατσούκλια , ΒΙΟΓΡΑΦΙΕΣ ΣΗΜΑΝΤΙΚΩΝ ΡΕΜΠΕΤΗΔΩΝ
Eftichia Papagianopoulou (1893 - 1972) lyrics for Tsitsanis, Kazantzidis, Kaldaras, etc...