Geroskipou or Yeroskipou (Γεροσκήπου ) is a municipality of the District of Paphos.
| | |
| --- | --- |
| Year | Population |
| 1946 | 1372 |
| 1960 | 1727 |
| 1982 | 2634 |
| 1992 | 4156 |
| 2001 | 5509 |
Geroskipou is a coastal town east of Paphos. Its current population is about 7,000 and it is the second biggest municipality in the Paphos District. Geroskipou with its remarkable five-domed Byzantine church of Agia Paraskevi, and its Folk Art Museum is known for many years now for its special delight `loukoumi'.
According to the tradition, implied even by the name of the town, in Greek mythology, Yeroskipou is the place where Aphrodite had her "gardens", thus the name "yeros" from the Greek word "ιερός" which means holy and "kipou" from the Greek word "Κήπος" which means garden. Pilgrims from Nea Paphos passed through Yeroskipou before reaching the temple of Aphrodite, at Kouklia. Goddess, donations, sacrifies and many other activities in honour of Aphrodite were taken in that place. Even currently a cave in the town is called Bath of Aphrodite.
Strabo mentions Geroskipou, calling the settlement Ierokipis. Many other travellers have written that in the coastal plain of Yeroskipou there were centuries old olives and carob trees.
In the 11th century, the five-domed Byzantine church of Agia Paraskevi was built, somewhere in the middle of present day settlement. It is also mentioned that at Moulia, a coastal locality of the town, the miraculous icon of Panagia of Khrysorogiatissa was found by the monk Ignatios, who carried it to Rogia mountain from where the monastery took its name.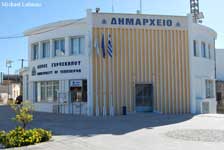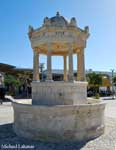 Town Hall, Geroskipou, Michail Kyprianou,

In 1811 Sir Sidney visited Geroskipou and was so much impressed by the resident Zimboulakis, that he appointed him as a vice-consul of Britain. Zimboulaki, who was born in Kefalonia, settled in Geroskipou and his duties as vice-consul were to protect the interests of Britain. The house of Zimboulaki where many personalities were hosted, was bought in 1947 by the Department of Antiquities, to be conferted into Folk Art Museum.
A British firm set up a factory for silk production in 1925. Hundreds of workers both from Geroskipou and the surrounding villages were employed in it. However, the factory closed in 1952. It is also mentioned that at Geroskipou there was also a linen-processing factory.
The mayor of the municipality of the town is Tasos Kouzoupos.
Agia Paraskevi Church, Agia Paraskevi Church,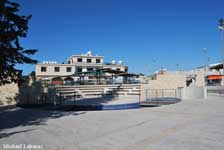 Sport
See also
Koloni (Κολώνη)