Postage stamps and postal history of Epirus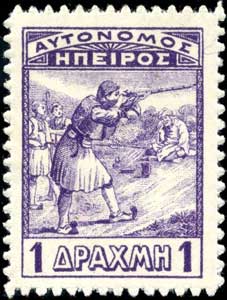 1-drachma value of the infantryman issue of March 1914
From 1912 to 1916, the northern part of the Greek section of Epirus was run by a provisional government, which ran its own postal service and issued postage stamps for a period during 1914.


The first stamps associated with Epirus were issued at Chimarra in February 1914. The set of four (1, 5, 10, and 25 lepta) are large stamps prominently featuring a double-headed eagle along with a skull and crossbones, and inscribed "ELL. AUTON. EPEIROS / ELEUTHERIA E THANATOS / AMYNESSE PERI PATRES" (Greek Autonomous Epirus - Freedom or Death - Defend our Country") . Produced manually with a handstamp, they also have a control mark on the back consisting of a blue oval with the letters "SP" inside, after Spiromilios, the commander at Chimarra. Some experts argue that these do not qualify as official stamp issues; even so, a set of four is worth about US$700.


The first undoubted issue of the provisional government came out in March. The set of eight, with values ranging from one lepton to 5 drachma, all depicted an infantryman aiming a rifle while others look on; the frames of the 10l and 25l values are inscribed only with "EPEIROS", while the others read "AUTONOMOS / EPEIROS". Instead of being perforated, they have a serrate roulette that superficially resembles perforation, but is distinguished by angled cuts rather than the round roles of perforation.


Flag stamp, 5 lepta
Occupation overprint on 3-lepta stamp of Greece
In August, the government issued a new set of eight, with the same range of values as previously, but now showing the flag of Epirus in a two-color design. The design was modified to include "KORUTSA" at Koritsa, for the 25l and 50l values.


Also in August, Spiromilios at Chimarra had stocks of the stamps of Greece overprinted with "HELLENIKE / 1914 / CHEIMARRA". These overprints are both uncommon, and have been extensively counterfeited.


Five additional designs are known to have been produced in 1914, but the evidence of their postal usage is uncertain; they were likely issued for publicity and propaganda purposes. An additional design dates from 1920, long after Epirus postal system had ceased to exist.


Greece issued special overprints for the parts of northern Epirus under occupation, starting in 1914. Initially the occupation stamps of 1913 were overprinted "B. EPEIROS" horizontally in black; red overprints were made, but not officially issued. (Some cancelled copies are known to exist.) In 1916, the same overprinted was applied vertically, reading either up or down, to regular Greek stamps. All of these have been counterfeited.


The lower values of the stamps of Epirus are common and readily available both used and unused, typically costing the collector only a few cents. The rarest stamp is the occupation overprint on the 5-drachma value, which is valued at around US$350.


Ancient Greece

Medieval Greece / Byzantine Empire

Modern Greece

Science, Technology , Medicine , Warfare
, Biographies , Life , Cities/Places/Maps , Arts , Literature , Philosophy ,Olympics, Mythology , History , Images

Science, Technology, Arts
, Warfare , Literature, Biographies
Icons, History

Cities, Islands, Regions, Fauna/Flora ,
Biographies , History , Warfare
Science/Technology, Literature, Music , Arts , Film/Actors , Sport , Fashion