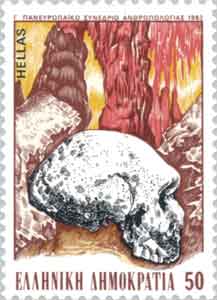 Aris Poulianos (born in Ikaria, Greece on July 24, 1924) is a Greek anthropologist. He studied biology and graduated from Queen's College in New York City in 1948. Moreover, he studied anthropology in the former Soviet Union. In 1961, he defended his Ph.D at the Moscow University on "The Origins of the Greeks," and disproved the widely accepted theories of German anthropology that classify the modern Greeks as a mixed Slavic group. Until 1965, he worked in the Department of Anthropology in the Soviet Academy of Sciences, and led research expeditions in Russia, Bulgaria, Romania, former Yugoslavia, Georgia, Kazakhstan, Turkmenistan, and Uzbekistan while teaching at Moscow University. In 1965, he returned to Greece and since then he continues to further his anthropological studies (i.e. populations in Spain; the Ainou of Japan), which have shed light on the origins of the inhabitants of the Haimos Peninsula, as well as origins of Europeans in general. Aris Poulianos is also currently occupied with the palaeoanthropological excavations at the Petralona Cave (accidentally discovered by Philippos Chatzaridis on May 10, 1959), the Triglia (an open site in Chalkidiki), and the prehistoric elephant site at Perdikkas-Ptolemais.


In 1969, Aris Poulianos was elected Vice-President of the 8th International Congress of Anthropological and Ethnological Sciences in Tokyo. In 1979, he was appointed President of the 3rd European Congress of Anthropology at Prague, which held its works in 1982 at Petralona. In 1971, Poulianos founded the Anthropological Association of Greece and also founded the Department of Paleoanthropology-Spelaeology in 1976, which functions within the Greek Ministry of Culture. He is a permanent member of the International Council of Anthropological and Ethnological Sciences of UNESCO (United Nations Educational, Scientific, and Cultural Organization). He is also a member of the New York Academy of Science since 1987.


Dr. Aris Poulianos is a controversial figure with more support in the nationalistic circles of Greece than in the scientific community. Some of his findings, as he claims, are "remains of a 12,000,000 million years homo erectus trigliensis".


The Anthropological Association of Greece, mainly a Poulianos family affair, has a long standing dispute with the Greek Ministry of Culture, after the latter's attempts to evict the Anthropological Association of Greece from the excavation site in the Petralona Cave, which was conceded to them after a 1981 contract.


Published work

Among Aris Poulianos's five books and numerous papers, the following stand out:


1960 - "The Origin of Greeks"; Ph.D Thesis at Moscow Institute of Anthropology; Reprinted in Athens in 1962, 1965, 1968, and 1988.

1961 - "Discovery of a Skull of Palaeolithic Man in Greece"; Voprossi Anthropologhii, 8:162.

1963 - "New Palaeolithic Finds of Greece"; Sov. Arheologhia, 2: 227-229.

1965 - "On the Position of the Petralona Man within Palaeoanthropi"; Sov. Ethnografia, 2: 91-99.

1967 - "The Place of the Petralonian Man among Palaeoanthropi"; Anthropos C 19, (N.S.11): 216-221. in Akten Anthropologischen Kongresses Brno.

1968 - "Finds of 500-900.000 years in Petralona cave"; press reports, Thessaloniki, 18-4 1968; Athens, 19-4-1968.

1969 - "Climatic Fluctuations of the Middle Pleistocene as Indicated in a Trial Cross-section of the Petralona Cave"; Report to the VIIth International Congress of Quaternary; Paris, Résumés des Communications: Section 5: 141.

1971 - "Petralona: A Middle Pleistocene Cave in Greece"; Archaeology, 24: 6-11.

1972 - "Some "Sapiens" Features of the Petralona Skull" (abstract) in: F. Bordes (ed.) The Origin of Homo sapiens; Proc. Paris Symposium, Sept. 1969, organised by UNESCO with INQUA, Paris, UNESCO.

1974 - "The Science of Anthropology and the Joural "Anthropos" (in Greek)"; Anthropos, 1: 1 - 4.

1974 - "The Transitional Period from the Neanderthaloid Stage to Homo Sapiens (summary)"; Anthropos, 1: 5 - 11.

1974 - "The Mesolithic Inion Bone from Attica (summary)"; Anthropos, 1: 40 - 54.

1974 - "Byzantine Skulls from Samos (summary)"; Anthropos, 1: 61 - 68.

1974 - "The Internatonal Anthropological Congresses (in Greek)"; Anthropos, 1: 104.

1974 - "The 9th International Congress of Anthropology (in Greek)"; Anthropos, 1: 105 - 106.

1975 - "An Early Minoan Microcephale"; Anthropos, 2: 40 - 47.

1975 - "The Mesolithic Man of the Kilada Cave in Argolis (summary)"; Anthropos, 2: 3 - 20.

1975 - "Group grave at Nichoria, Messenia (summary)"; Anthropos, 2: 48 - 55.

1975 - "Palaeoanthropological excavations at Petralona. Prakt. Archaeol.; Et.: 131-136. Athens.

1976 - "Helladopithecus Semierectus" (summary)"; Anthropos, 3: 3 - 29.

1976 - "New Palaeoanthropic Finds from Thessaly (summary)"; Anthropos, 3: 67 - 77.

1976 - "Proposed Plan of Ethnographical - Laographical Description of a People (in Greek)"; Anthropos, 3: 105 - 114.

1976 - "Book Review: Man and Nature by Frederic S. Hulse. Ed. Random House, N.Y. 1975"; Anthropos, 3: 196.

1976 - "Book Review: Antropologhia Dreynih Baltov by R. J. Denissova. Ed. Inst. Istorii, Riga. (in Greek)" Anthropos, 3: 197.

1976 - "Presentation: "Polemonta", a Mavrikios Dimitris' film (in Greek)"; Anthropos, 3: 198.

1976 - "Stratigraphy and Cultural Sequence at Petralona Cave. Report to the IXth International Congress of Prehistory"; Sept. 1976 Nice.

1976 - "Archanthropus Europaeus Petraloniensis. Colloque de Taxonomie Anthropologique, Bordeaux"; Sept.10-11, 1976. Universite de Bordeaux I. Talence Laboratoire d'Anthropologie.

1977 - "Stratigraphy and Age of the Petralonian Archanthropus"; Anthropos, 4: 37-46. Athens.

1977 - "Traces of Fire at the Petralona Cave, the Oldest Known up to Day"; Anthropos, 4: 144-146. Athens.

1977 - "Petralonian Archanthropus was Right-handed"; Anthropos, 4: 147-151. Athens.

1978 - "Hipparion Fauna near Petralon (summary)"; Anthropos, 5: 49 - 53. (Authors: Poulianos Aris N., Poulianos N. A.).

1978 - "New Miocene Fauna at Micralona - Trillia, Chalkidiki, Greece (summary)"; Anthropos, 5: 3 - 41. (Authors: Poulianos Aris N., Poulianos N. A.).

1978 - Correction of the English Text on the Summary Article, "Stratigraphy and Age of the Petralonian Archanthropus"; Published in Anthropos v. 4, 1977, pp. 44-46. Anthropos, 5: 263. Athens.

1978 - "Open Site Artifacts in the Vicinity of Petralona and their Comparison with Modern Greek Stone Implements for Thresing (Summary)"; Anthropos, 5: 81 - 97. (Authors: Poulianos Aris N., Poulianos N. A., Mikha Evi-Sarantea + A15).

1978 - "A Comparative Anthropological Study between Villages of Greek and Albanian Speakers of Messenia, Peloponnes (summary)"; Anthropos, 5: 131 - 158. (Authors: Poulianos Aris N., Meimaris M. K.).

1978 - "The Oldest Artifacts in Petralona Cave (summary)" Anthropos, 5: 74 - 80.

1978 - "The Oldest Artifacts in Petralona Cave"; Anthropos (Athens), 5: 74 - 80.

1978 - "Open Site Artifacts in the Vicinity of Petralona and their Comparison with Modern Greek Stone Implements for Threshing"; Anthropos, 5: 81-97. Athens. (Authors: Poulianos A. N., E. Mikha).

1979 - "G. F. Debetz, a Universal Expert and above all a Homo Humanus"; Anthropos, 6: 1 - 8.

1979 - "The Area of Southeastern Europe and the Appearance of the Homo Species (summary)"; Anthropos, 6: 9 - 14.

1979 - "The Area of South Eastern Europe and the Appearance of the Homo Sapiens"; Athens. Anthropos, 6: 9 - 14.

1980 - "Lower and Middle Pleistocene climatic fluctuations at Petralona Cave"; Anthropos, 7: 42 - 80. Athens.

1980 - "The Archanthropus of Petralona is Autochthonous"; Anthropos, 7: 7 - 11. Athens.

1980 - "The Post-cranial Skeleton of the Archanthropus Europaeus Petraloniensis"; Anthropos, 7: 13 - 33. Athens.

1980 - "A New Fossilised Inion-parietal Bone in Petralona Cave"; Anthropos, 7: 34 - 39. Athens.

1980 - "The Petralona Finds"; Thessaloniki. Yearbook of the Society of Macedonian Studies: 65-76.

1980 - "Stone Age Reconnaissance around Petralona Cave"; Anthropos, 7: 260 - 273. Athens. (Authors: Poulianos A. N. & G. P. Bhat).

1981 - "The Old Entrance of the Archanthropinae into the Petralona Cave"; Anthropos, 8: 74 - 79. Athens.

1981 - "Microhistological and Macroscopic Investigation of Post-cranial Bones of the Petralonian Archanthropus"; Anthropos, 8: 80 - 83. Athens.

1981 - "Pre-sapiens Man in Greece"; Current Anthropology, 22 (3): 287 - 288.

1981 - "Climatic Fluctuations at Petralona Cave"; Terra Cognita.

1982 - "The Cave of the Petralonian Archanthropinae"; Athens-Petralona. Library of AAG. pp.80.

1982 - "Once More on the Age and Stratigraphy of the Petralonian Man"; Abstracts of the Proceedings of the 3rd European Congress of Anthropology. Athens-Petralona. Anthropos, 9:9.

1982 - "Letter"; Nature, 299: 280.

1982 - "Trillia Chalkidiki - Perdikkas C. Macedonia - Petralona Chalkidiki and the Apperance of Man (in Greek)"; Anthropos, 9: 81.

1982 - "The Height of Archanthropuses and their Atomic Age (in Greek)"; Anthropos, 9: 83.

1983 - "On the Stratigraphy and Dating of the Petralonian Man"; The proceedings of the 3rd European and 1st Panhellenic Anthropological Congresses. Anthropos, 10: 49 - 52. Athens.

1983 - "On the Stratigraphy and Dating of Petralonian Man"; Anthropos, 10: 49 - 52.

1986 - "The Stature of the Petralonian Archanthropus"; Proceedings of the 3rd European and 1st Panhellenic Anthropological Congress. Athens. Anthropos, 11: 14 - 22.

1986 - "Print of a Flower in Petralona Cave"; The proceedings of the 3rd European and 1st Panhellenic Anthropological Congresses. Anthropos, 11: 90 - 93. Athens.

1988 - "The Peopling of Europe"; Abstracts, 12th International Congress of Anthropological and Ethnological

Sciences. July 25-31, 1988, Zagreb. (in press).


1988 - "Epimerization Ages of Fossil Teeth of Petralona Cave (Northern Greece)"; Abstracts of the 2nd Panellenic Congress of Anthropology. May 27-29, Athens. (Authors: Poulianos A. N., Poulianos N. A., Belluomini G., Delitala L.).

1990 - "Mycenean Skulls from Thessaly (summary)"; Anthropos, 12:

Sources

Aris Poulianos: Biographic Note

The 40th Anniversary Since The Discovery of the Petralona Archanthropus' Skull
Ancient Greece

Medieval Greece / Byzantine Empire

Modern Greece

Science, Technology , Medicine , Warfare
, Biographies , Life , Cities/Places/Maps , Arts , Literature , Philosophy ,Olympics, Mythology , History , Images

Science, Technology, Arts
, Warfare , Literature, Biographies
Icons, History

Cities, Islands, Regions, Fauna/Flora ,
Biographies , History , Warfare
Science/Technology, Literature, Music , Arts , Film/Actors , Sport , Fashion