Katina Paxinou
Katina Paxinou (Ekaterini Konstantopoulou) (Κατίνα Παξινού) (17.12.1900 Piraeus – 22.2.1973) was a Greek film and theatre actress.


Born Ekaterini Konstantopoulos in Piraeus. Trained as an opera singer but changed career and joined the Greek Royal Theater in 1929. Paxinou distinguished herself on the stage. When World War II broke out she was performing in London and unable to return to Greece she emigrated to the US.
Katina Paxinou as Pilar with Gary Cooper in For Whom the Bell Tolls (1943)
She was selected to play Pilar in the 1943 film of For Whom the Bell Tolls, winning a Academy Award for Best Supporting Actress and a Golden Globe. She continued appearing in Hollywood films until 1949. Returning to Greece in 1950, Paxinou resumed her stage career. She formed the Royal Theater of Athens with Alexis Minotis, her principal director and her husband since 1940. She contiued to accept occasional film roles until her death in Athens in 1973.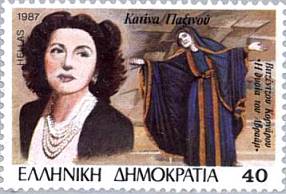 Greek Stamp, Katina Paxinou in The Sacrifice of Abraham (Vitzensos Kornaros),
Confidential Agent - 1945
Filmography

Modern Hellenic (Greek) Film (Cinema), Theater and Film Directors,
Ancient Greece

Medieval Greece / Byzantine Empire

Modern Greece

Science, Technology , Medicine , Warfare
, Biographies , Life , Cities/Places/Maps , Arts , Literature , Philosophy ,Olympics, Mythology , History , Images

Science, Technology, Arts
, Warfare , Literature, Biographies
Icons, History

Cities, Islands, Regions, Fauna/Flora ,
Biographies , History , Warfare
Science/Technology, Literature, Music , Arts , Film/Actors , Sport , Fashion