Dear friends, it has been granted to me to write in a language that is spoken only by a few million people. But a language spoken without interruption, with very few differences, throughout more than two thousand five hundred years. This apparently surprising spatial – temporal distance is found in the cultural dimensions of my country. Its spatial area is one of the smallest; but its temporal extension is infinite. Odysseas Elytis, Nobel Prize Speech (In Greek)
Literature 1979
Odysseas Elytis (Οδυσσέας Ελύτης) was the pseudonym of Odysseas Alepoudelis (November 2, 1911 –March 18, 1996), a Greek poet. He was awarded the Nobel Prize for Literature in 1979.


Born in Iráklion, Crete to a Lesvos family, he studied law in the University of Athens but did not take his degree. He was the last of the six children of Panagiotis Alepoudelis and Maria Vrana. He moved to Athens when he was little. In 1923, he visited Italy, Switzerland and Germany. In Lausanne, the poet began to knew and recognized Eleftherios Venizelos.


His main work, fourteen years in the writing but published in 1959, is Axion Esti, a poem that attempts to identify the vital elements in Greece's 3000-year history and tradition and where images of the sun and the sea blend with the Orthodox liturgy, and the pagan element with the Christian. Other works include Anoichta Chartia = Open Papers which first knew Modern Greek literature.


He spent his first summers of his live in Crete, in Mytilene and Spetses while in his winters, he spends time studying. Elytis also bought books that related with Greek nature. Kampouroglou, K. Pasagiannis, St. Granitsas and the three-volume Odigos tis Ellados = Guide to Greece.


His works began when he began to know his works of Cavafy and Kalvos and also learned lyric poems. In 1937, he studied poems from the two modern French poets including Paul Eluard and Perre Jean Jouve which lead to his ideas for literature. He later turned into surrealiamsm where he had a world upside down in the dreams and true and false.


He began his first works. He wrote at a law school in 1930 working with other Greek poets including Parafono Avlo from Kaisaros Emmanouil, Stou Glytimou to Chazi from Theodoros Doros, Strofi from Giorgos Seferis in 1931 and Poiimata = Poems from Nikitas Rantos in 1933.


In 1934, he became a part of Ideokratikis Filosofikis Omadas tou Panepistimiou Athinon where he made thoughts philosophically, with K. Tsatsos, P. Kanellopoulos, I. Theodorakopoulos and I. Sykoutris. He met I. Sarantaris (1908 - 1941), a poet who came from Italy in which he lived his last years in Greece where he liked his family, he was killed in the War in 1940. Elytis wrote Neon Grammaton or New Letters, In that time, he worked in pages from old and newer Greek writers including Giorgos Seferis, G. Theotokas, Angelos Terzakis, K. Politis, Angelos Sikelianos, etc.) he brought Westernized thoughts and ideas into Greek literature and began to think from newer poets with translations on some works in articles.


In January of 1935, Nea Grammata (New Letters) went to sale. Elytis met Andreas Empeirikos a month later, he first presented surrealism in the Greek works, Empeirikos was Elytis' friend for 25 years. One month after other than Fairy tailes by Seferis, Ypsikampinos (by Empeirikos) was sold in stores with surrealistic poems. In November in the 11th edition of Nea Grammata featured the first poems from Elytis.


In 1936, his team of new writers became large and famous. Elytis met Nikos Gkatsos for a couple of years, later he types his surrealist Amorgo. He translated poems from the French into the Greek from Paul Eluard for Neon Grammaton. That time, the First International Surrealistic Place in Athens introduced works in collages. A new poetis school was opened which taught his works in Greece. He became a soldier and went to Corfu in 1938 at Scholi Efedron Axiomatikon. He later wrote with Nikos Gkatsos and Giorgos Seferis which was founded in Korçë. Elytis published his first poem called Prosanatolismoi.


During the Second World War he served as a Lieutenant in the underground resistance. He went to Albania and he almost died of typhoid. Elytis was a part of the Kyklou Palama or the Palamas Circle. In the spring of 1942, he wrote I alithini fysiognomis kai i lyriki tolmi toy Andreas Kalvou. Elytis wrote a hymn named O Ilios o Protos Mazi me tis Parallages Pano se mia Achtida in 1943. Nea Grammata featured Ta Koritsia in 1944 and in 1945, Elytis wrote Tetradio = Notebook where he translated poems from Frederico Garcia Lorca and presented the first portion of the poem Asma Iroikon kai Penthimo gia ton Chameno Anthypolochago tis Alvanias when he served in the war. Other poems that were also done in WWII were Kalosoni stis Lykopories, Alvaniada and Varvaria (Barbary). After the war in 1945, Elytis visited NBC in North America for an international program. Elytis wrote Angloelliniki Epitheorisi, Eleftheria (Liberty) and Kathimerini.


Axion Esti, Music of Mikis Theodorakis based on Elytis work
After the war in 1948 he viisted Switzerland and visited Paris and studied there in the Sorbonne and also became a professor in philosophy, before returning to Greece. He worked in the newspaper company, the Aggloelliniki Epitheorisi, Eleftheria, Kathimerini until 1948. He met André Breton, Paul Eluard, P. Reverdy, Albert Camus, T. Tzara, P.J. Jouve, G. Ungaretti and R. Char. In 1949, he visited the Association Internationale de Critiques d'Art were in 1952, he became a part of the Team of Twelve where every year he received literature awards. In 1953, he awarded poets in the EIR, an international program.


With the help of the Anglo-Hellenic writer E. Teriade, he brought ideas from Matisse, Shagal, Giacometti, de Cirico and Picasso in which he later wrote articles and a poem called Odi ston Pikasso. From the end of 1950 to May 1951, he visited England and worked with the BBC. He visited Spain and Italy at the end of 1951.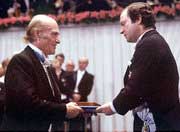 The Nobel prize for literature has gone to Greek writers twice. Here Odysseus Elytis in 1979.

In 1961, he visited North America. He also visited Rome in 1962. He visited other countries as well including France in 1966 and Egypt in 1967 and drew, he even translated some works. In the spring of 1969, he visited Paris. Elytis later visited Cyprus in 1970. He came back to Greece in 1971.


Collages from a Greek Elytis Website
Selected works in English translation

Collected Poems (Johns Hopkins University Press, 1997)

Eros, Eros, Eros: Selected and Last Poems (1998 - includes poems not in the Collected)

Literature

Orientations (1940)

Sun - The First (1943)

An Heroic And Funeral Chant For The Lieutenant Lost In Albania (1946)

To Axion Esti - It Is Worthy (1959)

Six Plus One Remorses For The Sky (1960)

The Light Tree And The Fourteenth Beauty (1972)

The Sovereign Sun (1972)

The Trills Of Love (1973)

The Monogram (1973)

Step-Poems (1974)

(Offering) My Cards To Sight (1974)

The Painter Theophilos (1973)

Second Writing (1976)

The Magic Of Papadiamantis (1976)

Signalbook (1977)

Maria Nefeli (1978)

Selected poems Ed. E. Keeley and Ph. Sherrard (1981)

Three Poems under a Flag of Convenience (1982)

Diary of an Invisible April (1984)

The Little Mariner (1988)

What I Love. Selected Poems (1986)

Krinagoras (1987)

The Elegies of Oxopetras (1991)

Reference Works

Mario Vitti: Odysseus Elytis. Literature 1935-1971 (Icaros 1977)

Tasos Lignadis: Elytis' Axion Esti (1972)

Lili Zografos: Elytis - The Sun Drinker (1972); as well as the special issue of the American magazine Books Abroad dedicated to the work of Elytis (Autumn 1975. Norman, Oklahoma, U.S.A.)

Odysseas Elytis: Anthologies of Light. Ed. I. Ivask (1981)

A. Decavalles: Maria Nefeli and the Changeful Sameness of Elytis' Variations on a theme (1982)

E. Keeley: Elytis and the Greek Tradition (1983)

Ph. Sherrard: Odysseus Elytis and the Discovery of Greece, in Journal of Modern Greek Studies, 1(2), 1983

K. Malkoff: Eliot and Elytis: Poet of Time, Poet of Space, in Comparative Literature, 36(3), 1984

A. Decavalles: Odysseus Elytis in the 1980s, in World Literature Today, 62(l), 1988

Translations

Poesie. Procedute dal Canto eroico e funebre per il sottotenente caduto in Albania. Trad. Mario Vitti (Roma. Il Presente. 1952)

21 Poesie. Trad. Vicenzo Rotolo (Palermo. Istituto Siciliano di Studi Bizantini e Neoellenici. 1968)

Poèmes. Trad. Robert Levesque (1945)

Six plus un remords pourle ciel. Trad. F. B. Mache (Fata Morgana. Montpellier 1977)

Korper des Sommers. Übers. Barbara Schlörb (St. Gallen 1960)

Sieben nächtliche Siebenzeiler. Übers. Günter Dietz (Darmstadt 1966)

To Axion Esti - Gepriesen sei. Übers. Güinter Dietz (Hamburg 1969)

The Axion Esti. Trans. Edmund Keeley and G. Savidis (Pittsburgh, U.S.A. 1974)

The Sovereign Sun. Trans. Kinom Friar (Philadelphia, U.S.A. 1974)

Ancient Greece

Medieval Greece / Byzantine Empire

Modern Greece

Science, Technology , Medicine , Warfare
, Biographies , Life , Cities/Places/Maps , Arts , Literature , Philosophy ,Olympics, Mythology , History , Images

Science, Technology, Arts
, Warfare , Literature, Biographies
Icons, History

Cities, Islands, Regions, Fauna/Flora ,
Biographies , History , Warfare
Science/Technology, Literature, Music , Arts , Film/Actors , Sport , Fashion