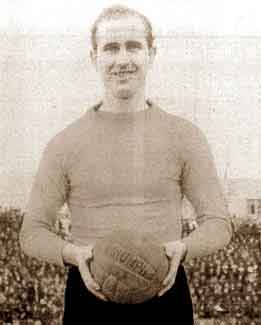 Kleanthis Maropoulos

Personal information
Full name
Kleanthis Maropoulos
Date of birth
1919
Place of birth

   

Istanbul, Turkey
Date of death

   

1991
Place of death

   

Athens, Greece
Playing position

Striker

Youth clubs
Prasina Poulia,Ethikos Kalogreza
Senior clubs1
Years
Club
App (Gls)*
1934-1952
AEK Athens
 ?(217)

   

National team2
Greece
10 (9)

1 Senior club appearances and goals
counted for the domestic league only and
correct as of 12 June 2007.
2 National team caps and goals correct
as of 18 June 2006.
* Appearances (Goals)
Kleanthis Maropoulos (Greek: Κλεάνθης Μαρόπουλος) (1919-1991) was a star football player for AEK Athens FC and Greece during the 1930s and 1940s. Arguably the best football player of his period, he was affectionately known as the "Blonde Eagle of AEK".


Born in 1919 to Greek parents in Tuzla, near Constantinople, Maropoulos came to Greece with his family at age 3 during the population exchanges after the Greco-Turkish War (1919-1922). Having settled in Kalamata, at age 12 he joined the local football club Prasina Poulia. When his parents moved to Kalogreza in the Athens area, he signed for Ethnikos Kalogreza. In 1934, he was spotted by AEK who placed him in their youth team. In 1936, he was promoted to the first team. Led by Maropoulos, alongside players like Tryfon Tzanetis and Kostas Negrepontis, AEK won their first two Greek Championships in 1939 and 1940 - the first domestic double by a Greek club. Unfortunately, the glory years of AEK and Maropoulos were interrupted by World War II, but he did continue his career after the war, playing until the late 1940s. He is credited with scoring 253 goals, 97 of which he attained prior to the war.


Maropoulos was capped 10 times by Greece. He subsequently managed the Greek National Football Team in the early 1960s before retiring from football to manage his sporting goods stores.

Retrieved from "http://en.wikipedia.org "
All text is available under the terms of the GNU Free Documentation License
Ancient Greece

Medieval Greece / Byzantine Empire

Modern Greece

Science, Technology , Medicine , Warfare
, Biographies , Life , Cities/Places/Maps , Arts , Literature , Philosophy ,Olympics, Mythology , History , Images

Science, Technology, Arts
, Warfare , Literature, Biographies
Icons, History

Cities, Islands, Regions, Fauna/Flora ,
Biographies , History , Warfare
Science/Technology, Literature, Music , Arts , Film/Actors , Sport , Fashion