Area:
253.209 km ²
Population: (2001)
 - Density ¹

 57620
 227.56/km ²

Elevation:
 -lowest:
 -centre:
 -highest:

Messenian Gulf
21 m(centre)
around 2,400 m
Number of communities:
14
Postal code:
241 00
Area/distance code:
11-30-27210 (030-27210)-2 to 4
Municipal code:
3816
Car designation:
KM
3-letter abbreviation:
KAB
Name of inhabitants:
Kalamatan sing., -s pl.
Address of administration:
28 Aristodimou St.
Kalamata 241 00
The Gulf of Messinia where Kalamata is located has various long beaches. The Taygetus is located about 4 km E of Kalamata and GR-82 Kalamata - Sparta highway runs through the ranges.


Olives and olive oil are important products that are exported from Kalamata.

Kalamata has schools, lyceums, gymnasia, banks, a post office, and squares (plateia).
Kalamata also has a soccer team which plays in the secondary division. It is named PAE Kalamata [1].

The name Kalamata

The name Kalamata may have something to do with the Greek kalo mata which means beautiful eyes. A Byzantine church near the city is devoted to the virgin of Kalomata.




Central Square of Kalamata *
Kalamata (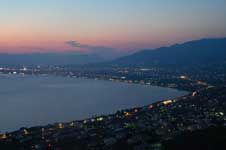 * Greek Wikipedia
Municipalities and communities of the Messinia Prefecture


Ancient Greece

Medieval Greece / Byzantine Empire

Modern Greece

Science, Technology , Medicine , Warfare
, Biographies , Life , Cities/Places/Maps , Arts , Literature , Philosophy ,Olympics, Mythology , History , Images

Science, Technology, Arts
, Warfare , Literature, Biographies
Icons, History

Cities, Islands, Regions, Fauna/Flora ,
Biographies , History , Warfare
Science/Technology, Literature, Music , Arts , Film/Actors , Sport , Fashion