Ro is a tiny Greek island of the Dodecanese chain. It is located Southwest of Kastellorizo.


Ro's main claim to fame is that it was home to Despina Achladiotou, the "Lady of Ro", who raised the Greek flag every day for decades over the island. After Achladiotou's death, a memorial was built in her honour on the island that was her home for so long.

Despina was since 1927 on the island Ro, her husband Kostas died 1940 after a short illness. Despina tried to get help from Kastellorizo using a fire signal but it was too late when finally the signal was seen. In August 1975 when she was not in Ro for a short period the Turkish flag was raised. In September the battleship G. Pezopoulos arrived and the Greek flag was raised again.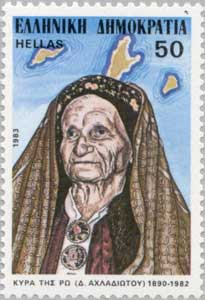 The legendary Despina Achladiotou
There are two good beaches on Ro: Agios Georgios and Stroggyle.

Ancient Greece

Medieval Greece / Byzantine Empire

Modern Greece

Science, Technology , Medicine , Warfare
, Biographies , Life , Cities/Places/Maps , Arts , Literature , Philosophy ,Olympics, Mythology , History , Images

Science, Technology, Arts
, Warfare , Literature, Biographies
Icons, History

Cities, Islands, Regions, Fauna/Flora ,
Biographies , History , Warfare
Science/Technology, Literature, Music , Arts , Film/Actors , Sport , Fashion