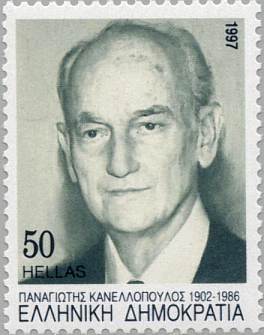 Panagiotis Kanellopoulos (Greek: )( 13.12.1902 Patra, - 11.9.1986 Athens) son of Kanellos Kanellopoulos and Amalia Kanellopoulou (the sister of Dimitrios Gounaris) was a Greek politician and Prime Minister. He studied law in Athens, Heidelberg and Munich. A man of letters, Kanellopoulos wrote much about politics, law, sociology, philosophy and other literary works. His book "I was born in 1402" received an award by the Academy of Athens.


Panagiotis Kanellopoulos
He served as Minister of Defence under the Tsouderos government in exile, Minister of Reconstruction under Georgios Papandreou in the government of national unity and, until 1967, in other ministerial posts under Alexandros Diomedes, Constantine Karamanlis and others. In November 1945, he briefly served as Prime Minister.


He became Karamanlis' uncle when his niece, Amalia, married Karamanlis. In 1963, he also became Karamanlis' successor as head of the National Radical Union party (ERE).


Kanellopoulos, Ludwig Erhard and Kostas Karamanlis (left side), 1961
He was Prime Minister when the coup d' etat of April 21, 1967 occurred and was placed under virtual house arrest for the next seven years. When the junta fell in 1974, Kanellopoulos resumed his political career as a member of Parliament with the New Democracy party but twice refused to stand for President of the Republic when the post was offered to him.


He was called the "Nestor of Greek politics".
Preceded by: Archbishop Damaskinos
Prime Minister of Greece 1945
Succeeded by: Themistoklis Sofoulis

Preceded by: Ioannis Paraskevopoulos
Prime Minister of Greece 1967
Succeeded by: Constantine Kollias

Retrieved from "http://en.wikipedia.org "
All text is available under the terms of the GNU Free Documentation License
Ancient Greece

Medieval Greece / Byzantine Empire

Modern Greece

Science, Technology , Medicine , Warfare
, Biographies , Life , Cities/Places/Maps , Arts , Literature , Philosophy ,Olympics, Mythology , History , Images

Science, Technology, Arts
, Warfare , Literature, Biographies
Icons, History

Cities, Islands, Regions, Fauna/Flora ,
Biographies , History , Warfare
Science/Technology, Literature, Music , Arts , Film/Actors , Sport , Fashion