Periphery: Attica
Prefectures : Athens, East Attica, Piraeus, West Attica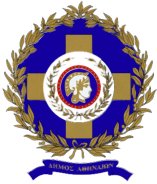 Municipality of Athens Seal
Athens (Greek: Αθήνα Athína) is the capital of Greece, and also the capital of the Attica region of Greece. A cosmopolitan modern city, Athens is also famous for being a powerful city-state and a very important center of learning in ancient times. It is named after its patron goddess, Athena.

καὶ τούτων δικαζόντων ἡ χώρα τῆς Ἀθηνᾶς ἐκρίθη, Κέκροπος μαρτυρήσαντος ὅτι πρώτη τὴν ἐλαίαν ἐφύτευσεν. Ἀθηνᾶ μὲν οὖν ἀφ' ἑαυτῆς τὴν πόλιν ἐκάλεσεν Ἀθήνας Apollodorus
Climatic conditions

Athens enjoys a typical Mediterranean climate, with the greatest amounts of precipitation mainly occurring from mid-October to mid-April. The rest of the year remains largely rainless, making Athens one of the sunniest cities in the European continent. Sheltered by topographic barriers from the full force of the western, rain-bearing winds, Athens has a semi-arid climate and averages less than 500 mm of precipitation annually. Winters are generally mild, with comfortable daytime temperatures and cool nights, though light frosts may occur on infrequent occasions (it has to be noted however, that Northern suburbs -that stand at a higher elevation- have a somewhat different microclimate, with cooler summers and colder winters with quite heavier average snowfall). Winter rainfall tends to occur in the form of short and sometimes heavy showers. Snow is relatively rare, although the city has experienced its share of blizzard-like conditions. The most recent examples include the blizzard of January 2002 as well as that of February 2004, all dumping heavy amounts of snow and blanketing the entire metropolitan area for days. Spring and autumn are considered ideal seasons for sightseeing and indeed for all kinds of outdoor activities. Summers can be particularly hot and at times prone to smog and pollution related conditions (admittedly, however, much less so compared to the past). The average summer daytime maximum temperature is 32 degrees Celsius (90°F). Heat waves are not uncommon during the months of July and/or August and during these events daytime temperatures can soar at or above 40 degrees Celsius (104°F) or they can even sometimes (though rarely) reach the 44°C to 45°C levels (111.2°F to 113°F).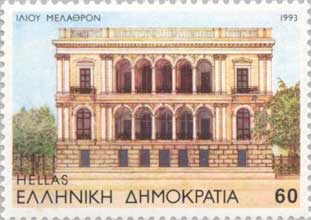 Iliou Melathron, the former house of H. Schliemann
Proto Nekrotafio (First Cemetery) Tomb of Sophia Afentaki (Σοφία Αφεντάκη), with the inscription "Yannoulis Halepas epoiei"
Cities nicknamed Athens:

Athens of the East - Madurai, India
Athens of the South - Nashville, Tennessee
Athens of the North - Edinburgh, Scotland
Athens of America - Boston, Massachusetts
Spree Athens - Berlin, Germany
Athens of Latin America - Bogotá, Colombia
Athens of Finland - Jyväskylä, Finland
Serbian Athens - Novi Sad, Serbia and Montenegro

Athens view from Lykavittos, Panoramic Image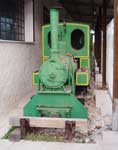 National Historical Museum of Athens, Athens Railway Museum, Numismatics Museum in Athens,
Ancient Agora Museum (Athens), , Epigraphical Museum in Athens, War Museum in Athens,,
Retrieved from "http://en.wikipedia.org"
All text is available under the terms of the GNU Free Documentation License

Athens neighborhoods

This list is incomplete

Akadimia Platonos | Ampelokipoi | Anafiotika | Ano Patissia | Ano Petralona | Assyrmatos | Attiki | Exarcheia | Gizi | Gouva | Kato Patissia | Kato Petralona | Keramikos | Kolonaki | Kolonos | Koukaki | Kypseli | Metaxourgeio | Monastiraki | Neapoli | Neos Kosmos | Patissia | Pagkrati | Petralona | Plaka | Profitis Daniil | Profiti Ilias | Psirri | Rouf | Sepolia | Treis Gefyres | Votaniko

Other Places
Ancient Greece

Medieval Greece / Byzantine Empire

Modern Greece

Science, Technology , Medicine , Warfare
, Biographies , Life , Cities/Places/Maps , Arts , Literature , Philosophy ,Olympics, Mythology , History , Images

Science, Technology, Arts
, Warfare , Literature, Biographies
Icons, History

Cities, Islands, Regions, Fauna/Flora ,
Biographies , History , Warfare
Science/Technology, Literature, Music , Arts , Film/Actors , Sport , Fashion