The National Archaeological Museum of Athens (Greek: Εθνικό Αρχαιολογικό Μουσείο) in Athens houses some of the most important artifacts from a variety of archaeological locations around Greece from prehistory to late antiquity. It is considered one of the great museums in the world and contains the richest collection of artifacts from the Greek antiquity worldwide . It is situated in the Exarhia area in central Athens between the streets Epirus, Bouboulina and Tositsa while its entrance is on the Patission Avenue adjacent to the historical building of the Athens Polytechnic. Today the museum is directed by Nikolaos Kaltsas.

History

The first national archaeological museum in Greece was established by prime minister of Greece Ioannis Kapodistrias in Aigina in 1829. Since then the archaeological collection has been moved to a number of exhibition places until 1858, when an international architectural competition was announced for the location and the architectural design of the new museum [2]. The current location was proposed and the construction of the museum's building began in 1866 and was completed in 1889 using funds from the Greek Government, the Greek Archaeological Society and the society of Mycenae. Major benefactors were Eleni Tositsa who donated the land for the building of the museum, Demetrios and Nikolaos Vernardakis from Saint Petersburg who donated a large amount for the completion of the museum.


The initial name for the museum was The Central Museum and it was renamed to its current name in 1881 by prime minister of Greece Charilaos Trikoupis . During the World War II the museum was closed and the antiquities were sealed in special protective boxes and buried, in order to avoid their destruction. In 1945 exhibits were again displayed under the direction of Christos Karouzos. The south wing of the museum houses the Epigraphic Museum with the richest collection of inscriptions in the world. The inscriptions museum expanded between 1953-1960 with the architectural designs of Patroklos Karantinos
The building

The museum has an imposing neo-classical design which was very popular in Europe at the time and is in full accordance with the classical style artifacts that it houses. The initial plan was conceived by the architect Ludwig Lange and it was later modified by Panages Kalkos who was the main architect, Harmodios Vlachos and Ernst Ziller. At the front of the museum there is a large neo-classic design garden which is decorated with sculptures .



Expansions and renovations

The building has undergone many expansions. Most important were the construction of new east wing in the early 20th century based on the plans of Anastasios Metaxas and the erection of a two-storeyed building, designed by George Nomikos, in 1932-1939. These expansions were necessary to accommodate the rapidly expanding collection of artifacts. The most recent refurbishment of the museum took more than 1.5 years to complete, during which the museum remained completely closed. It reopened in July 2004, in time for the Athens Olympics and it included aesthetic and technical upgrade of the building, installation of a modern air-conditioning system, reorganisation of the museum's collection and repair of the damage that the 1999 earthquake left to the building. The Minoan frescoes rooms opened to the public in 2005. Today, there is a renewed discussion regarding the need to further expand the museum to adjacent areas.


The museum's collections are organised in sections :


Prehistoric collection (Neolithic, Cycladic, Mycenaean)

Sculptures collection

Vase and Minor Objects Collection

Santorini findings

Metallurgy Collection

Stathatos Collection

Vlastos Collection

Egyptian Art collection donated by Demetrios Ioannou and Alexander Rostovich

Near Eastern Antiquities Collection

Some of the ancient artists whose work is presented in the museum are Myron, Scopas, Euthymides, Lydos, Agoracritus, Agasias, Cimon of Cleonae, Damophon, Aison (vase painter), Polygnotos (vase painter).


Collections include sculpture work, Loutrophoros, amphora, Hydria, Skyphos, Krater, Pelike, and lekythos vessels, Stele, frescoes, jewellery, weapons, tools, coins, toys and other ancient items.


Artifacts derive from archaeological excavations in Santorini, Mycenae, Tiryns, Dodona, Vaphio, Rhamnous, Lycosura, Aegean islands, Delos, the Temple of Aphaea in Aegina, the Sanctuary of Artemis Orthia in Sparta, Pylos, Thebes, Athens, the Antikythera wreck and from various other places across Greece.


The museum houses the archaic terracota statuette daidala that inspired the designers of the 2004 Athens Olympics maskots Athena and Phevos.


Two of the newest exhibits of the museum include a 4th century BC golden funenary wreath and a 6th century BC marble statue of a woman, which were returned as stolen artifacts to Greece in 2007 by the Getty Museum in California, after a 10 year-old legal dispute between the Getty Center and the Greek Government . One year earlier, the Los Angeles foundation agreed to return a 4th century BC tombstone from near Thebes and a 6th century BC votive relief from the island of Thassos .


There is also a large number of artifacts that are currently not exhibited, at the museum's vast storage rooms.


9 : Statue of a kouros. Boeotian marble.
14 : Unfinished statue of Kouros. Island marble
21 : Statue of a Nike. Parian marble. Found in Delos.
28 : Statue of a Sphinx. Pentelic marble. Found in Spata, Attica.
55 : Fragment of a votive relief. Doliana marble.
56 : Grave stele, Dermys and Kitylos. Boeotian poros. Found at Tanagra in Boeotia.
63 : Head of a Kouros. Island marble
76 : Statue of a Sphinx. Parian marble.
79 : Statue of a rider. Hymettian marble.
126 : Votive relief. Demeter, Kore and Triptolemos, Pentelic marble.
159 : Statuette of Nike. Parian marble.
228 : Boeotian pithos-amphora
231 : Statue of the goddess Themis
243 : Statue of Hermes. Pentelic marble.
247 : Statue of a fighting Gaul. Parian marble.
263 : Statue of Asklepios. Pentelic marble
353 : Early Attic black-figure amphora.
368 : Portrait bust of the philosopher Metrodoros.
384 : Herm portrait of the kosmetes Heliodoros. Pentelic marble.
385 : Herm portrait of the kosmetes Sosistratos. Pentelic marble.
387 : Herm portrait of the kosmetes Onasos. Pentelic marble.
417 : Portrait bust of Antinoos. Thasian marble.
424 : Kabeiric skyphos.
427 : Portrait bust of the Philosopher Polemon.
683 : Statuette of Pan. Pentelic marble.
695 : Statuette of a girl. Pentelic marble.
715 : Grave stele. Pentelic marble. Found on Aegina.
738 : Funerary naiskos. Pentelic marble.
739 : Amphotto Grave Stele. Beotian marble.
742 : Grave Stele. Beotian marble. Found in Thespiai, Boeotia
775 : Funerary statue of a Siren. Pentelic marble.
778 : Euempolos, Grave stele. Pentelic marble . Found in the Piraeus.
803 : Lion from a funerary monument. Pentelic marble.
841 : Melian krater.
990 : Attic Late Geometric krater.
1002 : Attic black-figure funerary amphora. Perseus. Herakles and Nessos. Nessos Painter
1175: Hydria. Eos in a two-horse chariot. From Athens.
1424 : Asklepios Plaque with a relief scene. Marble
1425 a : Relief slab. Pentelic marble. From an Altar?
1426 : Warrior Vase
1429 : Funerary stele made of poros stone, with relief chariot scene, Mycenae.
1430 : Funerary stele made of poros stone, with distinctive relief scene, Mycenae.
1454 : Herakles. Votive relief Marble.
1500 : Dionysos, Votive relief. Marble Found in the Piraeus.
1561 : Statue of a Nereid or Aura on horseback. Pentelic marble.
1736 : Head of Anytos.
1772 : Fragment of a relief plaque. Pentelic marble.
1783 : Hermes, Echelos, Basile, Votive amphiglyphon. Pentelic marble.
1904 : Statue of a kouros. Pentelic marble. Found in Keratea, Attica.
1921 : Lekythos. Nike hovering and holding an oinochoe and phiale.
2004 : Agakles son of Phrynichos, Grave stele. Pentelic marble.
2583 : Statue of a Siren. Pentelic marble
2703 : Table support. Pentelic marble.
2723 : Herakles. Votive relief. Marble
2772 : Statuette of a boy. Marble
3329 : Zeus Meilichios, Votive relief. Marble
3344 : Votive relief. Self-crowning athlete, Pentelic marble.
3369 : Votive relief in the shape of a temple. Pentelic marble.
3377 : Colossal head of a statue of Zeus. Marble.
3485 : Statuette of a boy with a dog. Marble.
3568 : Statuette of Herakles. Marble
3614 : Relief slab from a frieze depicting an Amazonomachy.
3624 : Grave stele. Hegeso, daughter of Proxenos. Pentelic marble.
3740 : Portrait head of the emperor Lucius Verus (AD 161 - 169)
3790 : Grave stele of Phylonoe. Pentelic marble.
3845 : Grave stele from Vari, Attica. Marble.
3858 : Torso of a kouros. Island marble. Found in Moschato, Attica.
3908 : The harpist of Keros of parian marble.
3910 : Figurine of flutist, of parian marble.
3919 : Male figurines of naturalistic 'Plastira' type of Paros,
3947 : Grave stele, Philokles and his son Dikaios. Marble
3978 : Exceptional in size (1.52 m high) female figure
4575 : A unique plaster head of a woman, Mycenaean plastic art.
5241 : Portait head of the emperor Antoninus Pius (AD 138 - 161).
5753 : Statue of a sleeping Eros.
6443 : Sanctuary of Olympia. Herakles?
7386 : Conical rhyton with octopus decoration
7576 : Mirror supported by female figure wearing a heavy tunic (peplophoros).
7735 : Figurine of a dog
7736 : Figurine of a locust
7901 : Doryphoros. Grave stele. Parian marble found in Athens.
9442 : Iron scissors.
10424 : Kabeiric Skyphos
10470 : Fragment of a hydria, Kabeiros Painter.
11761 : Bronze statuette of Poseidon.
12437 : Lekythos. Female figure with a wreath.
12587 : Column Krater, Sophilos
13644 : Lemnian stele
14984 : Bronze statuette of Zeus.
15209 : Statuette of Dionysos.
16464 : Painted wooden plaque of Pitsa.
16640 : Anthropomorphic pendant.
16774 : Statuette of Herakles on a round base.
16776 : Infant Eros statuette.
17170 : Pelike. Youth with a lyre in front of an altar and herm.
17870 : Acroterium from the Archaic temple of Artemis Laphria at Calydon.
17972 : Pyxis. Four plastic horses on the lid.
18063 : Polygnotos, Attic red - figured stamnos.
18244 : Figurine of a mouse
18228 : Bowl with lotus flowers on the handles of Cypriot type.
18231 : Ladle
19351 : Red-figure pelike.
19363 : Attic black-figure nuptial lebes
21032 : Attic black-figure amphora.
X. 23322 : Statue of the emperor Augustus (29 BC - AD 14) Bronze.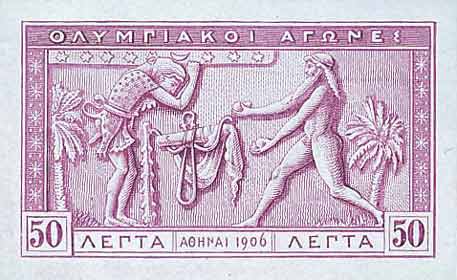 Atlas offers the Hesperides apples to Heracles, drawing from a Lekythos, Athena painter, c. 490/480 BC, Inv. 1132..
Farewell to a warrior, "Achilles painter", attic white lekythos, 450-440 BC, found at Eretria, National Archaeological Museum, Athens, Inv. no. 1818.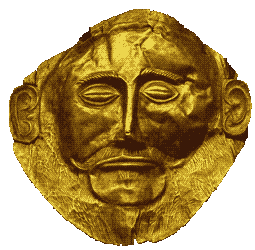 'Mask of Agamemnon' discovered by Heinrich Schliemann in 1876 at Mycenae. National Archaeological Museum of Athens
Jockey of Artemision, Inv. 15177.

Stele of Dermys and Kitylos, dedicated by Amphalkes to Dermys and Kitylos from Kokali necropolis in Tanagra, early 6th century BC, National Archaeological Museum Athens NM 56
Hegeso (the daughter of Proxenos) Stele
Varvakeios Athena
A relief from Eleusis, c. 430 BC, Demeter, Triptolemus and Persephone
National Archaeological Musem: Hermes Krioforos, Archandros, Nymphs and Pan , Apollo Pythios, Artemis and Leto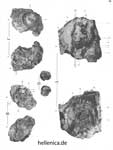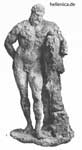 Antikythera Discovery: Antikythera Mechanism , "Philosopher", "Diomedes", "Heracles Farnese" , Warrior sculptures,
The Lemnos stele, Kaminia, (see Lemnian language)
Mask from Piraeus, 4th c. BC National Museum of Athens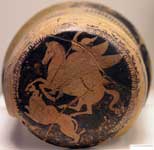 Bellerophon from an Epinetron , National Archaeological Museum in Athens, 2179.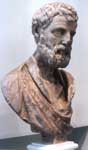 Herodes Atticus bust from his villa at Kephissia. mid 2nd c. AD Inv. no. 4810
Ancient Greek Paintings from Pitsa
Library of archaeology
The museum houses a 118 year old library of archeology with rare ancient art, science and philosophy books and publications. The library holds some 20,000 volumes, including rare editions dating to the 17th century. The collection of archaeology books is the richest of its kind in Greece. The Library is currently under renovation funded by the Alexander S. Onassis Foundation. Its renovation will be completed in December 2007 and the library will be renamed after Alexander Onassis [10].



Museum Activities

Conservation laboratories

Photographic archive and chemistry laboratories

Organises temporary exhibitions in the museum and abroad

Hosts a large number of archaeology related lectures in its lecture-hall annually.


Visitors information

The museum is easily accessible with the Athens metro. It is five minute walk from Viktoria station and a 10 minute walk from Omonoia station. Access is free for children up to 6 year old and students. The museum houses a large recently renovated gift shop with artifact replicas and a popular cafe for tourists in the sculpture garden. The museum is fully wheelchair accessible. There are also facilities and guides for hearing impaired visitors.



Current temporary exhibitions

The much awaited Praxiteles exhibition official openings was on the 25th July 2007. The exhibiton has been before presented at the Louvre in Paris, France with great success. The Athens exhibition will be even richer and more complete than the previous exhibitions, as exhibits that were not allowed to exit the museum for safety reasons will be exhibited along with the artifacts from other museums from Greece and the world in a total of 75 sculptures of the renowned ancient sculptor .


Nikolaos Kaltsas, Sculpture in the National Archaeological Museum Athens
, J. Paul Getty Museum, 2003, ISBN: 0892366869