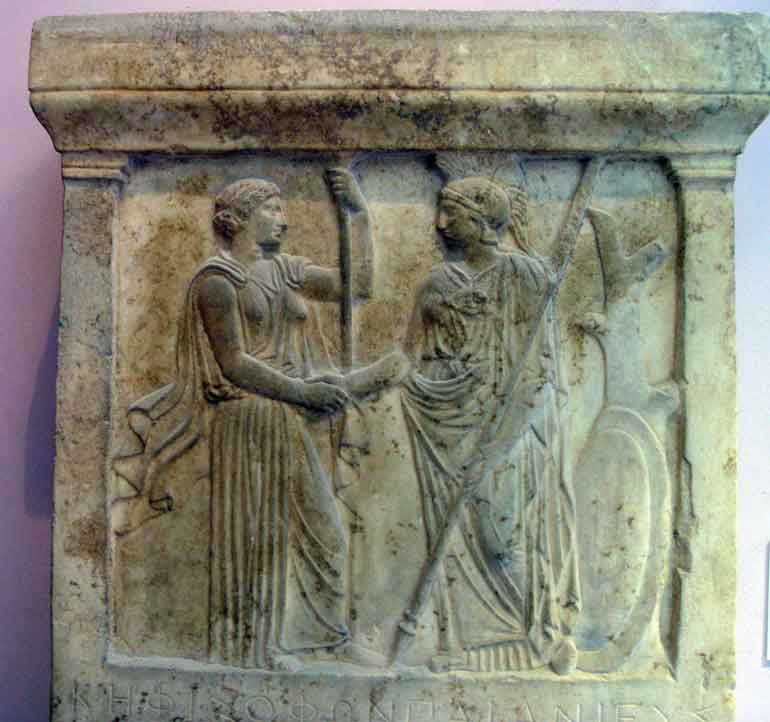 Acropolis Museum in Athens, Greece

Artist/Maker unknown
Relief inscribed stele with the Samian honorary decree. The relief depicts Hera and Athena, patron-deities of Samos and Athens respectively, clasping hands. According to the inscription, the demos of the Athenians honors the Samians, because they remained loyal to them, after the defeat of the Athenian fleet at Aigos Potamoi by the Spartans, although their other allies had revolted. The text is a copy of the original decree issued in 405 BC, inscribed in 403/2 BC.

Accession number 1333

Location Acropolis Museum in Athens

Photographer/source Marsyas, 07.04.2007

Detail, enhanced
Ancient Greece

Medieval Greece / Byzantine Empire

Modern Greece

Science, Technology , Medicine , Warfare
, Biographies , Life , Cities/Places/Maps , Arts , Literature , Philosophy ,Olympics, Mythology , History , Images

Science, Technology, Arts
, Warfare , Literature, Biographies
Icons, History

Cities, Islands, Regions, Fauna/Flora ,
Biographies , History , Warfare
Science/Technology, Literature, Music , Arts , Film/Actors , Sport , Fashion