Heinrich Schliemnn 53 years old.
Heinrich Schliemann (January 6, 1822 – December 26, 1890) was a German amateur archaeologist, born at Neu Buckow, in Mecklenburg-Schwerin, the son of a poor Protestant minister. As a boy his interest in history was encouraged by his father, who schooled him in the tales of The Iliad and The Odyssey. At the age of eight young Heinrich declared that he would one day excavate the city of Troy.


Because his family's poverty left Schliemann unable to afford a university education, he attended a vocational Realschule and became a grocer's apprentice at age fourteen. He labored in the grocery for five years, reading voraciously whenever he had a spare moment. In 1841 Schliemann fled and became a cabin boy on the Dorothea, a steamer bound for Venezuela. Twelve days out at sea the ship floundered, and the survivors washed up on the shore of Holland. Schliemann became a messenger, office attendant and then book-keeper in Amsterdam, and continued to nourish a passion for the Homeric story and an ambition to become a great linguist. He managed to get a trading firm to assign him to St. Petersburg as a merchant. There he learned Russian and Greek, employing a system that he used his entire life to learn languages -- Schliemann wrote his diary in the language of whatever country he happened to be in.


He had a gift for languages and by the end of his life he was familiar with English, French, Dutch, Spanish, Portuguese, Swedish, Italian, Greek, Latin, Russian, Arabic and Turkish apart from his native German. Schliemann's language ability was an important part of his previous career as a businessman in the importing trade.


Finding that his childhood sweetheart had married someone else, Schliemann instead married a Russian beauty who was more interested in his money than being his wife. She refused to accompany him on his travels or even share a house with him. Meantime, Schliemann went to visit his brother in the California gold fields, and while he was there California was made a state, giving him and other current occupants United States citizenship. He took advantage of this by traveling to Indiana and using that state's lax divorce laws to divest himself of his Russian wife.


Schliemann amassed a large fortune speculating on various stock markets prior to the Californian gold rush. He then found himself possessed of a phenomenal talent for finding gold, adding to his already considerable fortune. This wealth enabled Schliemann to become a thrill seeker, and he travelled the world seeking out ways to link his name to famous cultural and historical icons. One of his most famous exploits was disguising himself as a Bedouin tribesman to gain access to forbidden areas of Mecca.

"Treasury of Priam"
While in Athens, Schliemann inquired about finding a new wife to his friend, the Archbishop of Athens. The Archbishop suggested a relative of his, the seventeen-year-old Sophia Engastromenos. Schliemann was enraptured by her command of Homer, and married her almost at once. They had two children, Andromache and Agamemnon Schliemann; he reluctantly allowed them to be baptised, but only solemnized the ceremony by placing a copy of The Iliad on the children's heads and reciting a hundred hexameters.

Sophia Schliemann ( Engastromenos) wearing treasures recovered at Hisarlik.

Based on the work of a British archaeologist Frank Calvert, who had been excavating the site in Turkey for over 20 years believing it to be Troy, Schliemann excavated a site named Hisarlik. Based on finds he erroneously attributed to Troy, he publicised 'his' discovery of the city worldwide. Subsequently he also excavated at Mycenae and Tiryns, lending material weight to Homer's Iliad and Vergil's Aeneid as reflecting historical events. He was criticised, however, for his showy style, and his tendency to steal artefacts from sites and smuggle them from their country of origin. Despite her ill health, his wife Sophia participated in the excavations, even directing her own crew of workmen.


Heinrich Schliemann (6.1.1822-26.12.1890) and the Lion Gate of the Citadel of Mycenae
His career began before archaeology developed as a professional field, and so, by present standards, the field technique of Schliemann's work leaves a lot to be desired. Indeed, further excavation of the Troy site by others has indicated that the level he named the Troy of the Iliad was not correct. His excavations were even condemned by the archaeologists of his time as having destroyed the main layers of the real Troy.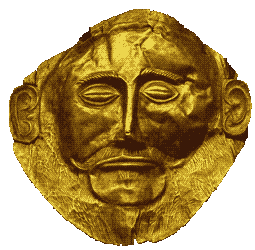 'Mask of Agamemnon' from Mycenae, Greece, discovered by Heinrich Schliemann in 1876 at Mycenae.
On August 1, 1890, Schliemann returned to Athens, and in November traveled to Halle for an operation on his chronically infected ears. The doctors dubbed the operation a success, but his inner ear became painfully inflamed. Ignoring his doctors' advice, he left the hospital and traveled to Leipzig, Berlin, and Paris. From Paris, he planned to return to Athens in time for Christmas, but his ears became even worse. Too sick to make the boat ride from Napels to Greece, Schliemann remained in Naples, but managed to make a journey to the ruins of Pompeii. On Christmas day he collapsed in the Piazza della Santa Carita and died in a hotel room on December 26, 1890.


Heinrich Schliemann., Stern April 1996

Sources

Boorstin, Daniel. The Discovers, 1983

Durant, Will. The Life of Greece, 1939

Aeneas with Anchises and his son, "Georg Ludwig Jerrers, Weltgeschichte für Kinder (Nürnberg 1828)", after a work of Johann Michael Voltz (1784-1858). According to H. Schliemann it was this image in a children book that inspired him to search Troy. His father said that nothing remained from Troy reading the story but Schliemann could not imagine this to be true (Troy had such strong walls ).
Works

La Chine et le Japon au temps présent. Paris: Librairie centrale 1867.

The Grave of Heinrich Schliemann
Ancient Greece

Medieval Greece / Byzantine Empire

Modern Greece

Science, Technology , Medicine , Warfare
, Biographies , Life , Cities/Places/Maps , Arts , Literature , Philosophy ,Olympics, Mythology , History , Images

Science, Technology, Arts
, Warfare , Literature, Biographies
Icons, History

Cities, Islands, Regions, Fauna/Flora ,
Biographies , History , Warfare
Science/Technology, Literature, Music , Arts , Film/Actors , Sport , Fashion