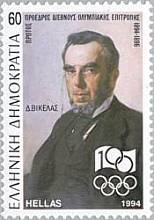 Demetrius Vikelas, Greek Stamp
Demetrius Vikelas or Dimitrios Vikelas (Δημήτριος Βικέλας) (February 15, 1835 – July 20, 1908) an author, was the first president of the International Olympic Committee (IOC) from 1894 to 1896.


Born in Ermoupolis, Syros,Greece. Vikelas represented the Pan-Hellenic Gymnastic Club at the 1894 Paris congress convened by De Coubertin, where the modern Olympic Movement was founded.


Originally, it had been De Coubertin's idea to hold the first celebration of the modern Olympics in Paris in 1900, but Vikelas convinced him and the newly created IOC that they should be held in Athens. As the constitution of the IOC at that time required the IOC president to be from the country which would host the next Games, Vikelas became the IOC's first president.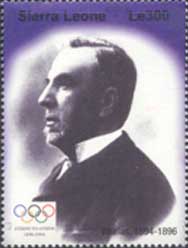 Sierra Leone Stamp
After these first Olympics, which proved a success, Vikelas withdrew from the IOC and turned his attention elsewhere. He died in Athens, aged 73.

Today the Sport Center (Stadium) in Hermoupolis, which seats 2000 people with an Olympic size swimming pool, 4 tennis courts, 2 gym halls, basket and volley ball courts, track and field, floor football court and soccer field, bares Demetrios Vikelas' name.

International Olympic Committee 1896
Dimitrios Vikelas, Nikolaos Xydias Typaldos
Presidents of the IOC

Demetrius Vikelas | Pierre de Coubertin | Henri de Baillet-Latour | Sigfrid Edström | Avery Brundage | Lord Killanin | Juan Antonio Samaranch | Jacques Rogge


Ancient Greece

Medieval Greece / Byzantine Empire

Modern Greece

Science, Technology , Medicine , Warfare
, Biographies , Life , Cities/Places/Maps , Arts , Literature , Philosophy ,Olympics, Mythology , History , Images

Science, Technology, Arts
, Warfare , Literature, Biographies
Icons, History

Cities, Islands, Regions, Fauna/Flora ,
Biographies , History , Warfare
Science/Technology, Literature, Music , Arts , Film/Actors , Sport , Fashion