Hydra Satellite Images, Greece
Hydra Google Earth

Hydra [Source]
Hydra [Source]
A statue on the island of Hydra Commemorating the Greek Admiral and politician, who commanded Greek naval forces during the 19th century Greek War of Independence, Andreas Miaoulis
It is separated from the Peloponnese by a narrow strait called on some maps "the Hydra Gulf." It is also a municipality and was one of the few provinces in Greece that have only two municipalities and fewer than five communes. In ancient times, the island was known as Hydrea. The uninhabited island of Dokos is included in the municipality. Hydra is the only inhabited island in the municipality.


Ferries arrive regularly from Piraeus and Napflion on the Peloponnese. No motor vehicles are allowed on this island, so the public transportation is provided by taxi-donkeys. The inhabited area is so compact that most people walk everywhere.

There is one main town, known simply as "Hydra port." It consists of a crescent-shaped harbor, around which is a strand of commercial establishments (restaurants, shops, markets, and galleries) catering to tourists and locals (called Hydriots.) Leading up from the harbor are steep stone streets containing most of the houses in which the Hydriots live, along with hostelries that range from luxurious to humble.

The island is practically waterless (it had some wells that were closed by seismic activity in the mid-20th century), so water is imported by boat from the mainland. Most of the island is dry, rocky hillside, empty save for the occasional farmhouse and one or two very isolated Orthodox monasteries.

Street in Hydra
1000 Drachmae with image of Hydra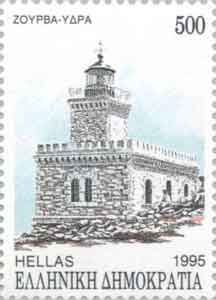 A 10m lighthouse in Hydra since 1883, rebuild 1946 after the destruction by the Germans in WW II.


The place is rocky and innaccessible from the land. Easternly the lighthouse is found the historical monastery of Saint Annis.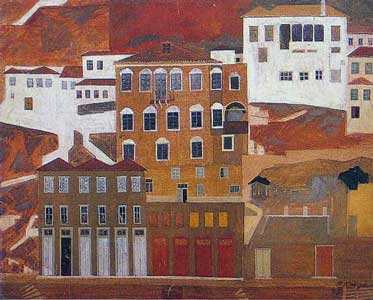 Nikos Nikolaou, Hydra , 1953, 31 x 40 cm , private collection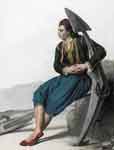 First Nautical School in Hydra, Konstantinos Volanakis
Photos: Alexandros Daskalakis
Division of the municipality
Hydra / Δ.δ. Ύδρας [ 2719 ]


Hydra / η Ύδρα [ 2526 ]

Agios Georgios / ο Άγιος Γεώργιος (νησίδα) [ 0 ]

Agios Ioannis / ο Άγιος Ιωάννης (νησίδα) [ 0 ]

Agios Konstantinos / ο Άγιος Κωνσταντίνος [ 2 ]

Agios Nikolaos (island) / ο Άγιος Νικόλαος (νησίδα) [ 0 ]

Veniza (island) / η Βένιζα (νησίδα) [ 0 ]

Vlychos / ο Βλυχός [ 28 ]

Dokos (island) / η Δοκός (νησίδα) [ 43 ]

Episkopi / η Επισκοπή [ 23 ]

Zogeri / το Ζώγερι [ 9 ]

Zogkaiika / τα Ζωγκαίικα [ 5 ]

Kivotos (island) / η Κιβωτός (νησίδα) [ 0 ]

Klimaki / το Κλιμάκι [ 4 ]

Limioniza (island) / η Λιμιόνιζα (νησίδα) [ 0 ]

Mandraki / το Μανδράκι [ 33 ]

Moni Agias Efpraxias (Monastery) / η Μονή Αγίας Ευπραξίας [ 1 ]

Moni Agias Triadas (Monastery) / η Μονή Αγίας Τριάδας [ 2 ]

Moni Agiou Nikolaou (Monastery) / η Μονή Αγίου Νικολάου [ 5 ]

Moni Genniseos Theotokou Zourvas (Monastery) / η Μονή Γεννήσεως Θεοτόκου Ζούρβας [ 8 ]

Moni Profitou Iliou (Monastery) / η Μονή Προφήτου Ηλιού [ 6 ]

Molos / ο Μώλος [ 2 ]

Palamidas / ο Παλαμιδάς [ 18 ]

Parapola (island) / η Παραπόλα (νησίδα) [ 0 ]

Petasi (island) / το Πέτασι (νησίδα) [ 0 ]

Platonisi (island)/ το Πλατονήσι (νησίδα) [ 0 ]

Stavroniki (island)/ το Σταυρονήσι (νησίδα) [ 0 ]

Trikeri (island) / το Τρίκερι (νησίδα) [ 4 ]

Persons
Retrieved from "http://en.wikipedia.org/
All text is available under the terms of the GNU Free Documentation License
Ancient Greece

Medieval Greece / Byzantine Empire

Modern Greece

Science, Technology , Medicine , Warfare
, Biographies , Life , Cities/Places/Maps , Arts , Literature , Philosophy ,Olympics, Mythology , History , Images

Science, Technology, Arts
, Warfare , Literature, Biographies
Icons, History

Cities, Islands, Regions, Fauna/Flora ,
Biographies , History , Warfare
Science/Technology, Literature, Music , Arts , Film/Actors , Sport , Fashion