Myrthios or Mirthios ( Μύρθιος ) is a village of the municipality Foinikas in Rethymnon, Crete

The name is derived from myrtle. The village is mentioned in the year 1577. Part of the buildings are two centuries old.
Myrthios, in the bakground the Kotsifou gorge, Summer 2005 [Source]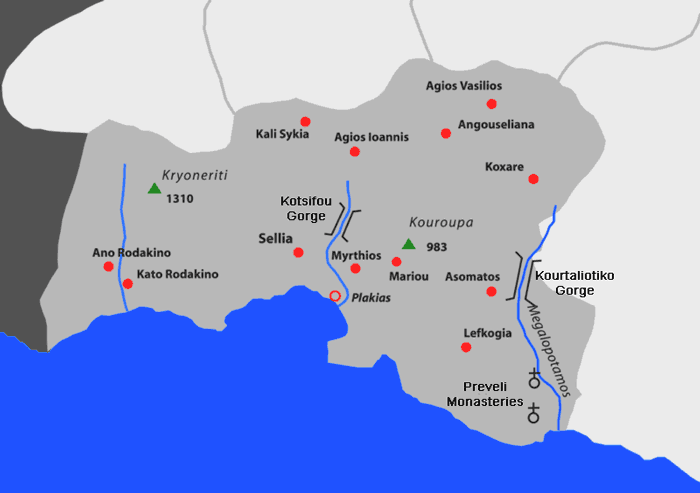 Pipe of a water mill below Myrthios (Source) The technique of these horizontal mill is very old but efficient for a weak waterflow.
Tourism and the production of olives is the main source of income.


The villages of the municipality Foinikas are:


Agios Ioannis

Agios Vasilios

Angouseliana

Asomatos

Atsipades

Pale

Gianiou

Kali Sikia

Kanevos

Koxare

Levkogia

Mariou

Myrthios

Paleoloutro

Rodakino

Sellia

Ancient Greece

Medieval Greece / Byzantine Empire

Modern Greece

Science, Technology , Medicine , Warfare
, Biographies , Life , Cities/Places/Maps , Arts , Literature , Philosophy ,Olympics, Mythology , History , Images

Science, Technology, Arts
, Warfare , Literature, Biographies
Icons, History

Cities, Islands, Regions, Fauna/Flora ,
Biographies , History , Warfare
Science/Technology, Literature, Music , Arts , Film/Actors , Sport , Fashion