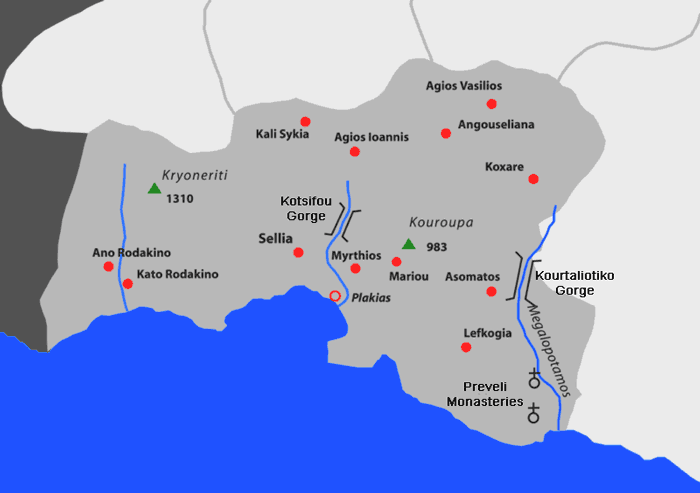 Plakias ( Πλακιάς ) is a small but important place of tourism in Crete. It is part of the municipality of Foinikas of the province Agios Vassilios in the prefecture Rethymnon, 35 km from the city of Rethymnon. The population is around 200.

Plakias view from a beach, on the hill the village Sellia. [Quelle]

Plakias, view from Myrthios [Quelle]
Around Plakias there are various beaches (Damnoni, Preveli, Triopetra, Souda), west of Plakias towards Agios Ioannis there is the Kotsifas george. Another gorge close to Plakias is the Kourtaliotiko gorge (Kourtaliotiko Faragi).
Weblinks
Retrieved from "http://en.wikipedia.org "
All text is available under the terms of the GNU Free Documentation License

Ancient Greece

Medieval Greece / Byzantine Empire

Modern Greece

Science, Technology , Medicine , Warfare
, Biographies , Life , Cities/Places/Maps , Arts , Literature , Philosophy ,Olympics, Mythology , History , Images

Science, Technology, Arts
, Warfare , Literature, Biographies
Icons, History

Cities, Islands, Regions, Fauna/Flora ,
Biographies , History , Warfare
Science/Technology, Literature, Music , Arts , Film/Actors , Sport , Fashion