Greek cruiser Giorgios Averof
Battleship Averof, flagship of the Fleet

Averof during a military operation
Career
Ordered:
Laid down:
Launched:
February 27, 1910
Commissioned:
September 1, 1911
Decommissioned:
August 1, 1952
Fate:
serves as floating museum
Current position:
Faliro
General Characteristics
Displacement:
tons (surfaced)
tons (submerged)
Length:
{{{length}}}
Beam:
21 m
Draft:
10,200 tonnes
Speed:
23 kts knots ( km/h) surface
knots ( km/h) submerged
Complement:
1200
Armament:
Four 234mm cannon, eight 190mm cannon, four torpedo tubes
Powerplant:
22 Belleville boilers, four cylinders, 19,000 hp
The HS Giorgios Averof (Greek ΕΝ Γεώργιος Άβεροφ) was a Greek cruiser which served as the flagship of the Hellenic Navy during the Balkan Wars.


History

At the beginning of the 20th century, Greece decided to reinforce its fleet, whose ships were fast becoming obsolete due to the fast-moving naval arms race of the era. The authorities procured four destroyers (then a relatively new type of ship), but the most important addition was the Averof. The vessel was being built at Orlando Shipyards, at Livorno in Italy when the Italian government cancelled the project due to budgetary concerns. The Greek government immediately stepped in and acquired the ship with a 1/3 down payment, paid with the help of a wealthy Greek benefactor, George Averoff.


Averof, was considered the pride of the Hellenic Navy during that time and took part as head of fleet under the commands of admiral Pavlos Kountouriotis during the naval battles at Elli (December 3, 1912) and Battle of Lemnos (1912) against the Turkish Navy. After Germany's attack against Greece, Averof was transfered to Alexandria, Egypt with the rest of the fleet. During WW2 it was assigned to patrol the Indian Ocean. In 1984, the Navy decided to restore it as a museum.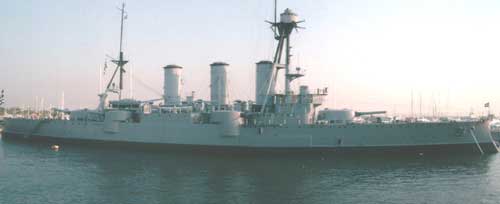 Averof, Trokadero Marina Palaio Faliro
Stamp of the Battleship Averof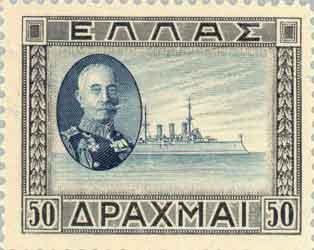 Pavlos Kountouriotis with the Averof battleship
Battle Ships Giorgios Averof and Kilkis, Battle Ship Giorgios Averof ,
Ancient Greece

Medieval Greece / Byzantine Empire

Modern Greece

Science, Technology , Medicine , Warfare
, Biographies , Life , Cities/Places/Maps , Arts , Literature , Philosophy ,Olympics, Mythology , History , Images

Science, Technology, Arts
, Warfare , Literature, Biographies
Icons, History

Cities, Islands, Regions, Fauna/Flora ,
Biographies , History , Warfare
Science/Technology, Literature, Music , Arts , Film/Actors , Sport , Fashion