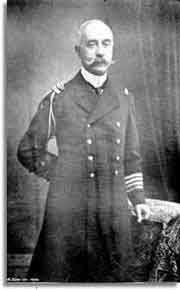 Admiral Pavlos Kountouriotis (1855-1935) (Greek: Παύλος Κουντουριώτης) was an acclaimed Greek military man, and twice the President of Greece.


Pavlos Kountouriotis was a member of the historical Kountouriotis family which originated from the island of Hydra; many members of the family took part in the Greek War of Independence . The original family name was Zervas but was changed to Kountouriotis, since one of their ancestors lived for a while in the village of Kountoura, Megarida.


He joined the navy at 1875 and rapidly rose up the hierarchy to reach the rank of admiral in 1912. During the Balkan Wars, he led the Greek Navy scoring major victories against the Turkish fleet in December, 1912 (Battle of Elli) and in January 1913 (Battle of Limnos), liberating most of the Aegean islands.

In 1916, he became a minister in the Stephanos Skouloudis government, but, in disagreement with the pro-German feelings of king Constantine I of Greece, he followed Eleftherios Venizelos to Thessaloniki were he was assigned the ministry of Naval Affairs in the Venizelos' National Defense government. He subsequently retired from the navy, and when king Alexander I of Greece died in 1920 he became Regent of Greece until the elections which took place in November, 1920.


In March, 1924, after king George II of Greece was deposed, he was elected as the first President of the Republic, He resigned the post in March, 1926 in oposition to General Pangalos' dictatorship. He was reelected president in May 1929, but due to serious health complications he resigned on December of the same year. He died in 1935.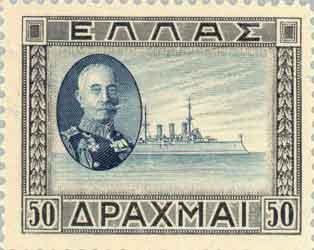 Pavlos Kountouriotis with the Averof battleship
Pavlos Kountouriotis was also the name of a World War II Greek battleship.

Ancient Greece

Medieval Greece / Byzantine Empire

Modern Greece

Science, Technology , Medicine , Warfare
, Biographies , Life , Cities/Places/Maps , Arts , Literature , Philosophy ,Olympics, Mythology , History , Images

Science, Technology, Arts
, Warfare , Literature, Biographies
Icons, History

Cities, Islands, Regions, Fauna/Flora ,
Biographies , History , Warfare
Science/Technology, Literature, Music , Arts , Film/Actors , Sport , Fashion