Refurbished metro station in Maroussi, Athens.
The Athens Metro is the underground public transport system of Athens, Greece, constructed by the Attiko Metro (Αττικό Μετρό) company (literally 'Attican metro') and the ISAP company (Ilektrikoi Sidirodromoi Athinon-Pireos/Ηλεκτρικοί Σιδηρόδρομοι Αθηνών-Πειραιώς) (Athens Piraeus Electric Railways).
History
Metro Line 1 was inaugurated on February 27, 1869 as a steam train connecting Athens and Piraeus and was operated by Athens Piraeus Railway SA. The line was electrified in 1904 and the operating company renamed to Athens Piraeus Electric Railway SA in 1976. Today, Line 1 reaches the suburb of Kifisia and is also known as the green line and the electric railway.
Construction of Metro Lines 2 and 3 began in November 1991 to decrease traffic congestion and clean up the environment by reducing Athens' smog level.
In 1997 the line under contruction between the Syntagma and Panepistemiou stations developed a 5-meter-wide, 24-meter-deep hole. Fearing that Panepistemiou (University) Avenue and the tunnel would collapse, construction was suspended. Later that afternoon, cement trucks filled the hole with concrete to stabilize the ground and avoid closure of the avenue and the subway project. After the hole was entirely filled, construction resumed.
Lines 2 and 3, constructed by Attiko Metro S.A. and operated by Attiko Metro Operations Company S.A. and known as red and blue lines respectively, were inaugurated in 2000 and as of 2005 have 23 stations between them. Line 3 reached the Eleftherios Venizelos International Airport in the summer of 2004. All three Metro lines connect with Proastiakos, the Athens Suburban Railway and the tram system.
List of stations of the Athens metro system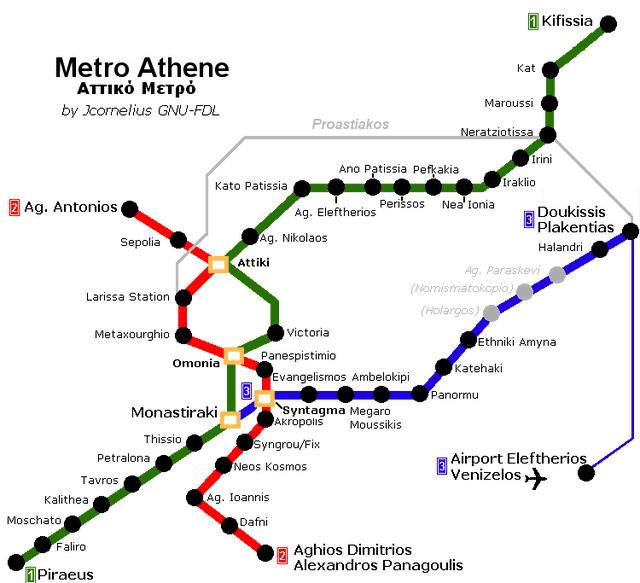 Athens metro map [Source]
List of stations in Line 1 (the green line)
Piraeus, next to the port and is the southernmost station of ISAP (Line 1, Green Line), future line linking Zeas and Chalandri
Faliro, connecting with the tram near Peace and Friendship Stadium and Karaiskaki Stadium and the Athens Tramway linking with the southern suburbs
Moschato
Kallithea
Tavros
Petralona
Thission (Thissio)
Monastiraki, intersects with Line 3
Omonoia (Omonia), intersects with Line 2
Victoria (Viktoria)
Attiki, intersects with Line 2
Agios Nikolaos
Kato Patissia
Agios Eleftherios
Ano Patissia
Perissos
Pefkakia
Nea Ionia
Heraklio
Eirini, near the Athens Olympic Stadium
Nerantziotissa, intersecting with the suburban railway
Maroussi
KAT, near the KAT Hospital
Kifissia, the northernmost line of ISAP (Line 1, Green Line)
List of stations in Line 2 (the red line)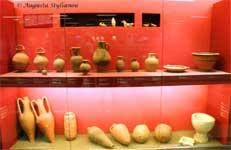 Acropolis Station, Athens Metro, Acropolis Station, Athens Metro,
Acropolis Station, Athens Metro, Acropolis Station, Athens Metro,
Acropolis Station, Athens Metro, Acropolis Station, Athens Metro,
Aghios Antonios - The current north end of the line.
Sepolia
Attiki
Larisa, near the train station of OSE and the suburban railway
Metaxourgio NE of Omonia Square
Omonia - featuring Omonia Square, it connects also with the Line 1.
Panepistimio - featuring the University of Athens
Syntagma - next to the Constitution Square, it also connects the Blue line.
Akropoli (Acropolis) - featuring the ruins of the Acropolis, with the original statutes posted at the station, along with the Omonoia.
Syngrou-Fix near Andreas Syngrou Avenue
Neos Kosmos in Neos Kosmos
Aghios Ioannis next to Vouliagmenis Avenue
Daphni in the heart of Daphni
Aghios Dimitrios/Alexandros Panagoulis - near Aghios Dimitrios, Helioupoli and Vouliagmenis Avenue
List of stations in Line 3 (the blue line)
Eleftherios Venizelos Airport
Doukissis Plakentias
Halandri
Ethniki Amyna (Ministry of: Defence , Transport and Communications)
Katehaki - next to Katehaki Avenue. (Minstry of : Justice, Public order, Tourism)
Panormou
Ambelokipi - near Ambelokipi. (Panathenaic Stadium, Embassy of Austria and Australia)
Megaro Moussikis (Gounaropoulos Museum, National Museum of Contemporary Art, Embassy of : Argentna, New Zealand, Japan, USA)
Evangelismos (Evangelismos Hospital, Benakis Museum , National Picture Gallery and Alexander Soutsos Museum, Byzantine Museum, Cycladic Art Museum, Benakis Museum , War Museum Embassies of: Chile, Columbia, Cyprus, Esthonia, Germany, Ivory Coast, Lativia, Pakistan, Paraguay, Russia, San Marino, Switzerland, UK, Zaire)
Syntagma -- next to Syntagma Square, also connects to the Red line.
Monastiraki -- also connecting to Line 1. (Areopagus, Agora of Athens, Library of Hadrian, Hephaestus Temple, Stoa of Attalos II, Tower of the Winds)
Future Expansions (According to Attiko Metro S.A.) by the end of 2012
The new stations are in bold. The year the station is expected to be given to ciculation is put between parentheses. [1]
Athens Metro future expansion[Source]
Attiko Metro Line 2 (Red Line)
Anthoupoli - Elliniko
Anthoupoli (2008)
Peristeri (2008)
Aghios Antonios
Sepolia
Attiki
Larissa Station
Metaxourghio
Omonoia (Currency Museum, Ministry of Employment and Social Security, Health)
Panepistimio (National Library, Museum of Greek Theatre)
Syntagma
Akropoli ( Acropolis Museum, Acropolis - Parthenon - Erechtheion, Theater of Dionysos, Arch of Hadrian, Herodes Atticus Odeon, Lysicrates Monument, Zeus Temple)
Sygrou - Fix
Neos Kosmos
Aghios Ioannis
Daphni
Aghios Dimitrios / Alexandros Panagoulis
Ilioupoli (2009)
Alimos (2009)
Argyroupoli (2009)
Elliniko, near the old Hellinikon International Airport - East Terminal (2009)




Attiko Metro Line 3 (Blue Line)
Zea - Doukissis Plakentias - Airport
Zea (planned)
Dimotiko Theatro (planned)
Piraeus
Tampouria (planned)
Nikaia (planned)
Korydallos (planned)
Aghia Varvara (planned)
Haidari (2008)
Egaleo (2007)
Eleonas (2007)
Votanikos (2007)
Monastiraki
Syntagma
Evangelismos
Megaro Moussikis
Ambelokipi
Panormou
Katehaki
Ethniki Amyna
Holargos (2007)
Nomismatokopio (2007)
Aghia Paraskevi (2008)
Halandri
Doukissis Plakentias
Airport




Attiko Metro Line 4 (Orange Line)
Alsos Veikou - Maroussi (new line, planned)
According to the Metro Development Study, 2 new lines should be constructed, actually branches of the existing lines: line 2 branch (Panepistimio - Alsos Veikou) and line 3 branch (Panormou - Maroussi). Recent investigation results though showed that a construction of an autonomous line would be preferable. The planned line is a result of the unification of the initially planned lines and the addition of some new station between Panepistimio, Evangelismos and Katehaki (instead of Panormou) stations. [2]
Athens Metro map. Extensions plan has been revised in December 2005 (Source)
Alsos Veikou
Galatsi
Kypseli
Dikastiria
Alexandras
Exarhia
Panepistimio
Kolonaki
Evangelismos
Pangrati / Kaissariani
Ano Ilissia
Zografou
Goudi
Katehaki
Faros
Filothei
Sidera
O.A.K.A.
Paradissos
Maroussi




Policies
Exhibition of archaeological finds that came to light during the construction of the project displayed at Metro station Syntagma, Athens.In order to maintain a safe, clean and pleasant environment in the Metro system, passengers entering its premises should be informed that the following activities are not allowed:
Smoking (health provision UI/Γ.Π./οικ76017/29.07.02)
Carrying inflammable or dangerous substances, materials and objects (Law 3082/2002)
Carrying inconvenient items (bulky or oversized items, bicycles etc.)
Drinking or eating (Law 3082/2002)
Traveling under the influence of alcohol or drugs
Selling or distributing goods or services (Law 3082/2002)
Using musical instruments
Begging or bothering other passengers
Littering
Going onto the trucks or in the tunnel.
Pets can be transported only inside special boxes (Law 3082/2002).
The production of a validated ticket or a valid travel card is required inside the trains and in the Metro premises, beyond the validation machines (Laws 1214/1981, 2669/1998, 2801/2000).
Passengers should not attempt to enter the trains after the buzzer has sounded.
Links
Ancient Greece

Medieval Greece / Byzantine Empire

Modern Greece

Science, Technology , Medicine , Warfare
, Biographies , Life , Cities/Places/Maps , Arts , Literature , Philosophy ,Olympics, Mythology , History , Images

Science, Technology, Arts
, Warfare , Literature, Biographies
Icons, History

Cities, Islands, Regions, Fauna/Flora ,
Biographies , History , Warfare
Science/Technology, Literature, Music , Arts , Film/Actors , Sport , Fashion