Skorpios island, Satellite image
Higher resolution image from Google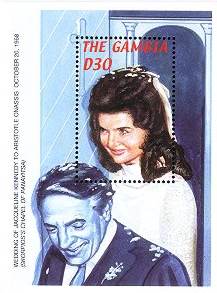 Skorpios () is an island, north of the island Meganisi and east of Lefkada in the Ionian Sea off the western coast of Greece. It is mainly known as the private island of the late Greek shipping billionaire Aristotle Onassis. It was the site of his wedding to former First Lady Jacqueline Kennedy on October 20, 1968.

Upon his death it passed to his daughter Christina, and then in turn to her daughter Athina Roussel. Onassis, his son Alexander, and his daughter Christina are all buried on the island.
Little is known about Athina's relationship to her island, and she is believed to have spent very little time there. There have been rumors published that she may sell it, and stories in financial publications have placed its value at over $200 million US. On 9 August 2009, a British newspaper claimed - without any confirmation - that the island had been put up for sale by Onassis at the reported price of 100 million Euro. Bill Gates has reportedly shown interest in the purchase of the island. Reports on Greek Television and republished worldwide that the island has been sold to Giorgio Armani for 150 million Euro in September 2010 were denied, according to ANSAmed agency .
Skorpios is part of the Meganisi municipality of the Lefkada Prefecture.
Retrieved from "http://en.wikipedia.org/wiki/Skorpios"
All text is available under the terms of the GNU Free Documentation License
Ancient Greece

Medieval Greece / Byzantine Empire

Modern Greece

Science, Technology , Medicine , Warfare
, Biographies , Life , Cities/Places/Maps , Arts , Literature , Philosophy ,Olympics, Mythology , History , Images

Science, Technology, Arts
, Warfare , Literature, Biographies
Icons, History

Cities, Islands, Regions, Fauna/Flora ,
Biographies , History , Warfare
Science/Technology, Literature, Music , Arts , Film/Actors , Sport , Fashion