Periphery: Crete
Prefecture : Chania
| | |
| --- | --- |
| The municipality of Vamos in Chania prefecture | |
Vamos is a small town and municipality on the island of Crete, Greece. It is located 26 km from Chania in north west Crete, and is the chief settlement of the Apokoronas area.


The area around Vamos is a lush landscape a few kilometres from the coast. Very much a working village, many tourists nevertheless visit or stay in the village and in the surrounding villages of Gavalohori and Kalives. There is much infrastructure in the village including the town hall of the Vamos municipality that covers several other villages, a large medical centre, the court and the high school for the region, and several restaurants, snack bars and shops, largely serving the local community.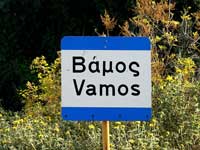 Below the modern town square at the top of the hill is old Vamos. Here a group of locals set up Vamos SA, an enterprise devoted to preserving local buildings and customs and attracting a sustainable form of tourism. Several of the old houses have been rebuilt as tourist accommodation. There is a well-regarded taverna - the Cistern of the Bloumosifi - as well as an art gallery, a café and a general store selling local products.


Vamos' population is estimated at 600.

The municipality extends from the main national road across the island down to the coast, covering Cape Drapano and much of eastern Apokoronas.


Division of the municipality with a population 2932 (2001 census)
Vamos / Δ.δ. Βάμου [ 736 ]


Vamos / ο [ 665 ]

Douliana / τα Δουλιανά [ 71 ]


Gavalochori / Δ.δ. Γαβαλοχωρίου [ 537 ]

Kaina / Δ.δ. Κάινας [ 184 ]


Kaina / η [ 174 ]

Platanos / ο Πλάτανος [ 10 ]


Kalamitsi Alexandrou / Δ.δ. Καλαμιτσίου Αλεξάνδρου Χανίων -- το Καλαμίτσι Αλεξάνδρου [ 114 ]

Kefalas / Δ.δ. Κεφαλά [ 410 ]


Kefalas / ο [ 287 ]

Drapanos / ο Δράπανος [ 79 ]

Palailoni / το Παλαιλώνι [ 44 ]


Kokkino Chorio / Δ.δ. Κοκκίνου Χωρίου -- το Κόκκινο Χωριό [ 162 ]

Xirosterni / Δ.δ. Ξηροστερνίου [ 186 ]


Litsarda / η [ 124 ]

Xirosterni / το Ξηροστέρνι [ 62 ]


Plaka / Δ.δ. Πλάκας [ 476 ]


Plaka / η [ 302 ]

Almyrida / η [ 133 ]

Kampia / τα [ 41 ]


Sellia / Δ.δ. Σελλίων [ 127 ]


Sellia / τα [ 37 ]

Likotinarea / η [ 64 ]

Souri / η [ 26 ]
The municipality of Vamos

Ancient Greece

Medieval Greece / Byzantine Empire

Modern Greece

Science, Technology , Medicine , Warfare
, Biographies , Life , Cities/Places/Maps , Arts , Literature , Philosophy ,Olympics, Mythology , History , Images

Science, Technology, Arts
, Warfare , Literature, Biographies
Icons, History

Cities, Islands, Regions, Fauna/Flora ,
Biographies , History , Warfare
Science/Technology, Literature, Music , Arts , Film/Actors , Sport , Fashion