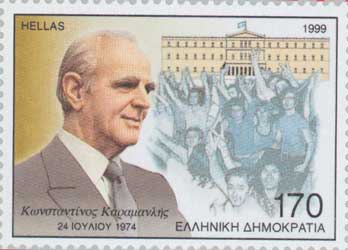 Konstantinos Karamanlis in front of the Hellenic Parliament in Athens

Hellenic Parliament Google Earth
The Hellenic Parliament (Greek: Βουλή των Ελλήνων; transliterated Vouli ton Ellinon; literally 'Council of the Greeks') is the parliament of Greece, located in Syntagma Square in Athens.

The Building

The building, designed by Friedrich von Gärtner, originally served as a Palace for the Greek monarch, until 1924, when a referendum abolished the monarcy. For a 2 year period, the building was used for many different purposes -- functioning as a makeshift hospital and a museum among other things -- until September, 1926, when the government decided that the building would instead house the Parliament.


Improvements are ongoing, some of them significant (such as the addition of an 800-vehicle underground parking structure), to ensure that the building can continue to function effectively.


Eleni Skoura was the first Greek woman elected for the Greek Parliament as a candidate for the Thessaloniki prefecture in the year 1953. With Virginia Zanna she was the first woman candidate in Greek history.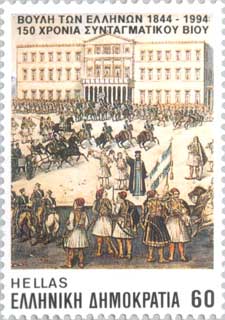 1844-1994,Stamp 150 years Hellenic Parliament

Acropolis, Karl Friedrich Schinkel Plan 1834
an idea to build a palace on the Acropolis, and maybe this would be the place of the Hellenic Parliament
Hellenic Parliament, Photo Alexandros Daskalakis
Ancient Greece

Medieval Greece / Byzantine Empire

Modern Greece

Science, Technology , Medicine , Warfare
, Biographies , Life , Cities/Places/Maps , Arts , Literature , Philosophy ,Olympics, Mythology , History , Images

Science, Technology, Arts
, Warfare , Literature, Biographies
Icons, History

Cities, Islands, Regions, Fauna/Flora ,
Biographies , History , Warfare
Science/Technology, Literature, Music , Arts , Film/Actors , Sport , Fashion