Dimitrios "Dimitris" Saravakos (Greek: Δημήτρης Σαραβάκος) (born 29 July 1961), nicknamed O Μικρός (The Kid) is a Greek former football player, considered to be one of the best Greek football midfielders of all time. He started his career in Panionios and later he moved on to Panathinaikos FC, where Saravakos gained fame and matured as a footballer, evolving into a formidable attacking midfielder. After a rejection of a renewal contract offer by Panathinaikos, Saravakos moved to AEK Athens in 1994. He returned and concluded his career in Panathinaikos three years later.
Being a charismatic player he atrracted a number of the biggest clubs in Europe. Yet in the early 90s – prior to the implementation of the ECJ's Bosman ruling – when Juventus had offered him a contract, Panathinaikos' chairman Giorgos Vardinogiannis rejected the transfer – Saravakos thus lost an opportunity to play in Europe.Born in 26.07.1961, one of the best Greek players ever. He started his carrier in Panionios FC and later he moved on to Panathinaikos. He ended his carrier in AEK Athens FC.

His father Thanasis Saravakos was also a football player (Panionios).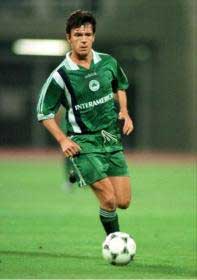 Honours
Panathinaikos
* Greek Championship: 1986, 1990, 1991
* Greek Cup: 1986, 1988, 1989, 1991, 1993, 1994
* Greek Super Cup: 1988, 1993
AEK Athens
* Greek Cup: 1996, 1997
* Greek Super Cup: 1996

External links
* UEFA.com's article for Saravakos
* Career