Kalloni lies precisely in the centre of Lesvos. It is endowed by the nature, since it is embraced by the gulfs waters, supplied by the rich plain of 100sq. km, where six rivers flow through it and always provide product sufficiency due to the underground and spring waters fertilizing its vineyards and gardens, and guarded by the historic monasteries. It was always the crossroad, from where the main axes passed which have not changed much from ancient times. In the last decade, this large village has presented great development in the field of trade and constitutes the seat of the municipality that comprises the settlements of: Agra, Anemotia, Dafia.

The summer festivals present a special interest: the festival of sardine in Skala Kalloni in July, where tones of fresh grilled sardines are to be offered to the visitors with plenty of ouzo accompanied with live Greek traditional music and dance shows. The livestock-breeding in Agra, the wine festival in Anemotia as well as the panigyri of Saint Trinity on the 7th of July in Kalloni, which includes three days feast and horse – races.

There are significant archaeological sites, since, within the boundary of the plain, the ancient Lesbians worshiped many of the ancient gods in great sanctuaries, parts of which are saved until today. The temple of Messa was dedicated to Zeus, Dionysus and Ira, constituted a worship and communication centre for all the Lesbians, and at the beginning of the 2nd century B.C. was the seat of the federation of all the cities of Lesvos. During the early Christian period a basilica was erected over the temple, which was succeeded by a mid-Byzantine church. There are many remains, ruins, altars and ancient remnants around the region, signs of worship of the Lesbian people who arrived there as pilgrims to the great sanctuary of Pyrra and of the entire island. Important archaeological sites are also found in Apothika, between Parakila and Agra, where the ancient retaining wall of about six meters height is located, but also in Makara, bearing the name of the first settler of Lesvos during ancient times.

Division of the municipality with a population 8194 (in 2001)
Kalloni / Δ.δ. Καλλονής [ 2027 ]


Kalloni / η [ 1732 ]

Moni Panagias Myrsiniotissis Leimonos / η Μονή Παναγίας Μυρσινιωτίσσης Λειμώνος [ 6 ]

Petsofas / ο Πετσοφάς [ 289 ]


Agra / Δ.δ. Άγρας [ 1030 ]


Agra / η [ 990 ]

Agios Georgios (island) / ο Άγιος Γεώργιος (νησίδα) [ 1 ]

Apothikes / οι [ 39 ]


Anemotia / Δ.δ. Ανεμότιας -- η [ 534 ]

Arisvi / Δ.δ. Αρίσβης -- η [ 465 ]

Dafia / Δ.δ. Δαφίων [ 869 ]


Dafia / τα [ 851 ]

Iera Moni Leimonos / η [ 18 ]


Keramion / Δ.δ. Κεραμίου [ 1000 ]


Keramion / το [ 524 ]

Skala Kallonis / η [ 476 ]


Parakoila / Δ.δ. Παρακοίλων -- τα [ 926 ]

Skalochorion / Δ.δ. Σκαλοχωρίου [ 666 ]


Skalochorion / το [ 581 ]

Archaia Antissa / η Αρχαία Άντισσα (τ. τα Κούλοβα) [ 39 ]

Kalo Limani / το [ 33 ]

Balini / η Μπαλίνη [ 13 ]


Filia / Δ.δ. Φίλιας [ 677 ]


Filia / η [ 636 ]

Kechrada / η [ 41 ]

Google Earth
Monastery Leimonos, Dafia, Kalloni, Monastery Leimonos, Dafia, Kalloni,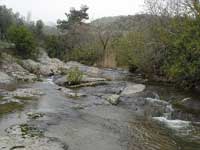 Minaret in Parakoila, Old Bridge, Parakoila, Windmills in Agra, Kalloni , Potamia River near Skala Kallonis,
Flamingos , Salt Lake, Kalloni, The extraction of the salt, After the scraping of the salt,
Ancient Greece

Medieval Greece / Byzantine Empire

Modern Greece

Science, Technology , Medicine , Warfare
, Biographies , Life , Cities/Places/Maps , Arts , Literature , Philosophy ,Olympics, Mythology , History , Images

Science, Technology, Arts
, Warfare , Literature, Biographies
Icons, History

Cities, Islands, Regions, Fauna/Flora ,
Biographies , History , Warfare
Science/Technology, Literature, Music , Arts , Film/Actors , Sport , Fashion