Population: (2001)

2171
Elevation:
 -lowest:
 -centre:
 -highest:

sea level
32 m(centre)
about 800 to 900 m
Postal code:
480 60
Area/distance code:
11-30-26840 (030-26840)-2
Municipal code:
4306
Car designation:
PZ
3-letter abbreviation:
PAG Parga
Address of administration:
9 V.E. Vasilia St.
Parga 480 60
Website:
www.parga.gr
Parga (Greek: Πάργα, Albanian: Parga, Pargë), is a town and a municipality located in the northwestern part of Preveza in northwestern Greece being surrounded entirely by the prefecture of Thesprotia and is the only municipality in Greece that is surrounded by another prefecture. It is on a road linking Anthousa and GR-19. It is located about 40 km S of Igoumenitsa, SW of Ioannina, 65 km NW of Preveza, 90 km W of Arta and about 50 km NW of Vonitsa and about 60 km NE of Lefkada. The settlement dates back to ancient times and was called Ypargos. When the Slavs invaded the area, it became Paragiros, Paragaia or Paragea, Ypagogos or Epagogos or Epargos where its named after the Slavic word prag meaning port.

Nearest places

Anthousa, W
Livadari, N
Agia Kyriaki, E

Division of the municipalty of Parga
Parga / Δ.δ. Πάργας [ 2.432 ]


Parga / η Πάργα [ 2.171 ]

Agia Kyriaki / η Αγία Κυριακή [ 203 ]

Agios Georgios / ο Άγιος Γεώργιος [ 22 ]

Maras / ο Μαράς [ 8 ]

Panagia (island) / η Παναγία (νησίδα) [ 0 ]

Chrysogiali / το Χρυσογιάλι [ 28 ]


Agia / Δ.δ. Αγιάς [ 844 ]


Agia / η Αγιά [ 838 ]

Sarakiniko / το Σαρακίνικο [ 6 ]


Anthousa / Δ.δ. Ανθούσης [ 689 ]


Anthousa / η Ανθούσα [ 624 ]

Trikorfon / το Τρίκορφον [ 65 ]


Livadarion / Δ.δ. Λιβαδαρίου [ 68 ]


Vryses / οι Βρύσες [ 26 ]

Livadarion / το Λιβαδάριον [ 42 ]

| Year | Communal population | Municipal population |
| --- | --- | --- |
| 1981 | 1892 | - |
| 1991 | 1699 | 3569 |
| 2001 | 2171 | 4033 |
Parga has a school, a lyceum, a gymnasuim, a church, a post office, banks, a port situated in the central part which ferries to, a beach in the central and the eastern part of Parga, taverns and a square (plateia).


Parga is situated on a hillside with a road linking Anthousa and GR-19. A promontory and a rocky hill with some types of pine trees with tall ones on a top is situated in the west. An rocky islet with pine trees is to the southeast and a small promontory with trees to the east. Lake Kalodiki is situated to the east and is like a pond which is used for frogs.


The mountains suurounds Parga and is rocky and bushy in the east while it is forestes and grassy in the west and north and has a mountainotop in the northwest.


A view of Paxoi and parts of southern Corfu can be seen and sometimes Lefkada as well.


In 1570, a Venetian fortress was established with the wonderful prospect. There are daily tourists from the island of Corfu and to Paxoi.


A lifting device was used in the the so called Oracle of the Dead (Nekromanteio or Nekyomanteio) close to the village Mesopotamos / Parga in Epirus. People asked the dead for solutions of their problems. Priests were involved who prepared each person for the encounter with the dead by asking questions. The person were prepared for the encounter also with a specific diet that had a narcotic effect.The priests used a crane like in the theaters to fly around in the dark cave immitating the dead souls and since they had enough information they could provide some answers. The persons in a religious ecstasy believed that the encounter was real.

Isle of Panagia, Parga, Greece. Photo by Samuli Lintula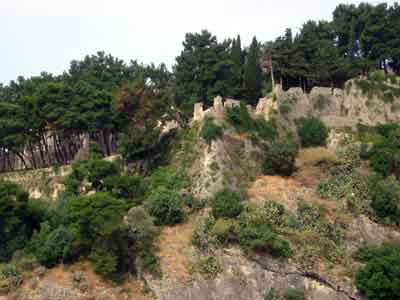 South and east walls of the castle of Parga , Photo: Samuli Lintula, May 2005.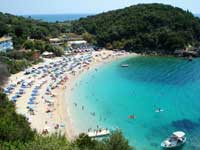 Ancient Greece

Medieval Greece / Byzantine Empire

Modern Greece

Science, Technology , Medicine , Warfare
, Biographies , Life , Cities/Places/Maps , Arts , Literature , Philosophy ,Olympics, Mythology , History , Images

Science, Technology, Arts
, Warfare , Literature, Biographies
Icons, History

Cities, Islands, Regions, Fauna/Flora ,
Biographies , History , Warfare
Science/Technology, Literature, Music , Arts , Film/Actors , Sport , Fashion