Periphery: South Aegean
Prefecture: Cyclades

Polyegos, seen from Kimolos (Source)
Polyegos (or Poliegos) is a small (area c. 17 km2 ) island of the Cyclades near the island Kimolos. It is part of the Kimolos community of the Milos province.
It is 1 Nautical mile east of Kimolos and 12 Nautical Miles from Sifnos. Its name Polyegos is derived from the many goats on the island.
Since 1892 there is a lighthouse on Cape Maskoula.
Fauna of Kimolos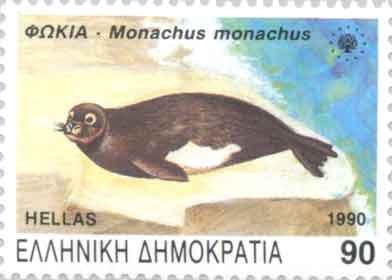 Mediterranean Monk Seal (Monachus Monachus)
Alternative Names : Poliegos, Polyaigos
http://www.mom.gr/life/index.html
Castle ruins on Kimolos (the island
Ancient Greece

Medieval Greece / Byzantine Empire

Modern Greece

Science, Technology , Medicine , Warfare
, Biographies , Life , Cities/Places/Maps , Arts , Literature , Philosophy ,Olympics, Mythology , History , Images

Science, Technology, Arts
, Warfare , Literature, Biographies
Icons, History

Cities, Islands, Regions, Fauna/Flora ,
Biographies , History , Warfare
Science/Technology, Literature, Music , Arts , Film/Actors , Sport , Fashion