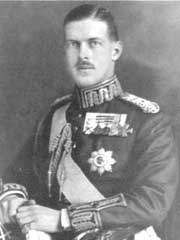 Greek Royalty

House of Oldenburg (Glücksburg branch)
Alexander I, King of the Hellenes, ruled Greece from 1917-1920.


He was born on 21 July (O.S.) = 1 August 1893 at Tatoi near Athens, the second son of Constantine I and his wife, Sophie of Prussia.


In 1917, Constantine I, known for his pro-German tendencies, insisted that Greece remain neutral in World War I, while Prime minister Eleftherios Venizelos was determined to go to war in support of the Triple Entente. At Venizelos' invitation, French and British troops entered Greece and forced Constantine I and his first born son Prince George into exile. Young Alexander was enthroned as king; in reality he had absolutely no power, and his only real task was to frequently visit the front and rally the troops.


On one major issue, however, he did defy Venizelos: On 4 November 1919 he eloped with a commoner, Aspasia Manos (1896-1972), daughter of Colonel Petros Manos, causing a scandal and infuriating Venizelos who had wanted the young king to marry princess Mary, daughter of king George V of England. The royal couple was forced to temporarily flee to Paris, until the crisis was resolved and his wedding was legalized.


On 25 October 1920 he died at Athens, of sepsis, after been bitten by a pet monkey a Barbary Macaque. After his death, his father was permitted to return to Greece as a king.

Barbary Macaque (Macaca sylvanus)
His only child, born after his death, was Alexandra of Greece (1921-1993), who later married Peter II, King of Yugoslavia.

The city of Alexandroupolis (former Dedeagatch), near the river Evros on the Greco-Turkish border, was renamed after him in 1920 on the occasion of his visit there. He was the first King of Greece to visit the city since its capture by the Hellenic Army during World War I and the official change of guard between Bulgarian and Greek officials on 14 May 1920.


Alexander I. with Aspasia Manos (Postcard 1921)
References

Hindley, Geoffrey (2000). The Royal Families of Europe. New York: Caroll & Graf. ISBN 0-7867-0828-X.

Van der Kiste, John (1994). Kings of the Hellenes, Stroud: Sutton
Encyclopedia Britannica, edition 15 (1990). Article: Alexander (Greece)

Miroslav Marek. Schleswig-Holstein-Sonderburg-Glücksburg. Genealogy.Eu. Accessed on June 30, 2005.



Retrieved from "http://en.wikipedia.org/e"
All text is available under the terms of the GNU Free Documentation License

Ancient Greece

Medieval Greece / Byzantine Empire

Modern Greece

Science, Technology , Medicine , Warfare
, Biographies , Life , Cities/Places/Maps , Arts , Literature , Philosophy ,Olympics, Mythology , History , Images

Science, Technology, Arts
, Warfare , Literature, Biographies
Icons, History

Cities, Islands, Regions, Fauna/Flora ,
Biographies , History , Warfare
Science/Technology, Literature, Music , Arts , Film/Actors , Sport , Fashion