Greek Royalty

House of Oldenburg (Glücksburg branch)
Queen Sofía (Sofía de Borbón, Schleswig-Holstein-Sonderburg-Glücksburg), is the queen consort of King Juan Carlos I of Spain. She is styled Her Majesty the Queen.


She was born in Athens, Greece on November 2, 1938, as Princess Sophia of Greece and Denmark, the eldest child of the King of the Hellenes, Paul I (1901-1964) and his wife, the former Frederika, Princess of Hanover (1917-1981). Both her parents were descendants of Queen Victoria of the United Kingdom, and despite her country of birth, the family tree on both sides is almost exclusively German and Danish in origin. The Greek royal house is a cadet branch of the Danish royal family of Schleswig-Holstein-Sonderburg-Glücksburg, which is itself a branch of the House of Oldenburg. Her brother is Constantine II of Greece and her sister is Irene of Greece.


Princess Sophia spent her childhood in Egypt and South Africa during her family's exile from Greece during World War II. They returned to Greece in 1946. She finished her education in Schloss Salem boarding school in Germany, and then studied pediatrics, music and archeology in Athens. Her Majesty speaks Spanish, Greek, German, French and English. She represented Greece in sailing at the 1960 Olympic Games.


On May 14, 1962 she married Prince Juan Carlos de Borbón y Borbón, the future king, whom she met on a cruise of the Greek islands in 1954. In doing so, she relinquished her rights to the throne of Greece and converted to Roman Catholicism from Greek Orthodoxy. The couple have three children: Infanta Elena born December 20, 1963, Infanta Cristina born June 13, 1965, and Prince Felipe born January 30, 1968.


Through her mother, Sophia is a great-great granddaughter of England's Queen Victoria and, as a result, is a distant cousin of her husband. Because of this, she is also related to the royal families of the United Kingdom, Norway, Sweden and Denmark.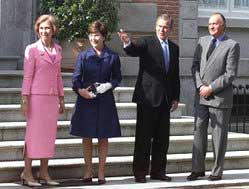 Their Majesties King Juan Carlos I and Queen Sofia with Laura and George W. Bush

The Queen of Spain is the executive president of the Queen Sofía Foundation, which in 1993 sent funds for relief in Bosnia, and is the honorary president of the Royal Board on Education and Care of Handicapped Persons and the Foundation for Aid for Drug Addicts. She takes special interest in programs against drug addiction, traveling to conferences in both Spain and abroad. The Museo Nacional Centro de Arte Reina Sofía is named after her, as is Reina Sofía Airport in Tenerife.


She is a pescetarian, refusing to eat meat but not fish, which is a rather uncommon custom in Spain. She also doesn't watch bullfighting, in contrast with her husband, who is an aficionado.


Styles of
Queen Sofia as consort

Reference style Her Majesty
Spoken style Your Majesty
Alternative style Ma'am

The Queen is an Honorary Member of the San Fernando Royal Academy of Fine Arts and of the Royal Academy of History. She has received Honorary Doctorates from the Universities of Rosario (Bogota), Valladolid, Cambridge, Oxford, Georgetown, Evora and New York.


Retrieved from "http://en.wikipedia.org/"
All text is available under the terms of the GNU Free Documentation License
Ancient Greece

Medieval Greece / Byzantine Empire

Modern Greece

Science, Technology , Medicine , Warfare
, Biographies , Life , Cities/Places/Maps , Arts , Literature , Philosophy ,Olympics, Mythology , History , Images

Science, Technology, Arts
, Warfare , Literature, Biographies
Icons, History

Cities, Islands, Regions, Fauna/Flora ,
Biographies , History , Warfare
Science/Technology, Literature, Music , Arts , Film/Actors , Sport , Fashion