Periphery:West Greece
Prefecture : Elis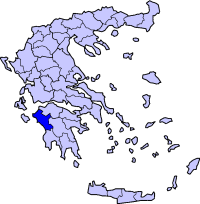 Daphnoula or Dafnoula (Greek: Δαφνούλα, meaning little laurel from dafni and -oula) is a mountain village in the Prefecture of Ilia in Greece. It is located about 55 km E of Krestena and GR-9/E55, SE of Olympia, about 8 to 10 km N of Andritsaina, about 40 km S of Tropaia and about 55 km NW of Megalopoli. It is linked with a road to Andritsaina. There are no bridges over the Alpheus, the nearest bridge is the road linking Kallithea and Tropaia to the west and GR-76 to the southeast. The prefecture of Arcadia is to the north and east.


Subdivision

Chelidoni (pop: 19)

Nearest places

Andritsaina, S

Matesi, SW

Geography

Location:

Longitude: 21.96 (21°51'54') E

Latitude: 37.788 (37°35'18') N

Postal code: 270 62

Elevation: 178 m

Dialing code: +11+30-26260 (030-26260)

Historical population

| Year | Communal population |
| --- | --- |
| 1981 | 236 |
| 1991 | 230 |
| 2001 | 306 (community), 287 (village) |
Dafnoula has a small school, a church, and a small square (plateia).


Dafnoula sits on a mountain slope. The mountains surround the village with mainly grasslands and some rocky landscapes with a few forests. The Alfeios River is to the north and northeast and is located less than 1 km.


On July 11, 1997, a forest fire consumed most of the forests in southeastern Ilia burning a few km² of forests. It happened between Matesi and Dafnoula. The fire occurred for about 3 hours and began at 08:00 (UTC)/11:00 (EET),


Persons

Ioannis G. Tsatsaris (born in 1934) is a Greek author

Links

Biography of Ioannis G. Tsatsaris

Ancient Greece

Medieval Greece / Byzantine Empire

Modern Greece

Science, Technology , Medicine , Warfare
, Biographies , Life , Cities/Places/Maps , Arts , Literature , Philosophy ,Olympics, Mythology , History , Images

Science, Technology, Arts
, Warfare , Literature, Biographies
Icons, History

Cities, Islands, Regions, Fauna/Flora ,
Biographies , History , Warfare
Science/Technology, Literature, Music , Arts , Film/Actors , Sport , Fashion