Periphery: Thessaly
Prefecture : Trikala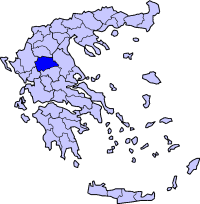 Prefecture Trikala, Farkadona Municipality
Farkadona (Greek: ) is a municipality in the Trikala Prefecture, Greece. Population 7093 (2001).The Larissa Prefecture is to the east and the Karditsa Prefecture to the south. It is also one of the municipalities in the prefecture that does not have settlements. Farkadona is located southwest of Elassona, west of Larissa, east-northeast of the city of Karditsa and east of the city of Trikala and is situated in the Thessalian Plain. It also serves as the seat of the municipality and it was known as Tsioti. Farkadona is connected with the GR-6 (Larissa - Trikala - Ioannina - Igoumenitsa).

Population

Year Town population Municipality population
1981 2,117 -
1991 2,330 7,456
2001 2,387 7,093
After World War II and the Greek Civil War, the population steadily declined as residents moved to larger towns and cities and the richest countries in the world.
History
Farkadona is named after an ancient Thessalian city in the region. The ancient city is probably near the village Klokotos in the municipality of Oichalia.
Division of the municipality

Farkadona / Δ.δ. Φαρκαδόνας -- η [ 2387 ]

Achladochorion / Δ.δ. Αχλαδοχωρίου -- το Αχλαδοχώριον [ 162 ]

Grizanon / Δ.δ. Γριζάνου -- το [ 1548 ]

Diasellon / Δ.δ. Διασέλλου -- το Διάσελλον [ 329 ]

Zarkos / Δ.δ. Ζάρκου -- ο [ 1498 ]

Keramidion / Δ.δ. Κεραμιδίου -- το [ 410 ]

Panagitsa / Δ.δ. Παναγίτσας -- η [ 370 ]

Pineias / Δ.δ. Πηνειάδος -- η [ 389 ]

Ancient Greece

Medieval Greece / Byzantine Empire

Modern Greece

Science, Technology , Medicine , Warfare
, Biographies , Life , Cities/Places/Maps , Arts , Literature , Philosophy ,Olympics, Mythology , History , Images

Science, Technology, Arts
, Warfare , Literature, Biographies
Icons, History

Cities, Islands, Regions, Fauna/Flora ,
Biographies , History , Warfare
Science/Technology, Literature, Music , Arts , Film/Actors , Sport , Fashion