Periphery: South Aegean
Prefecture : Dodecanese

| | |
| --- | --- |
| Dodecanese | |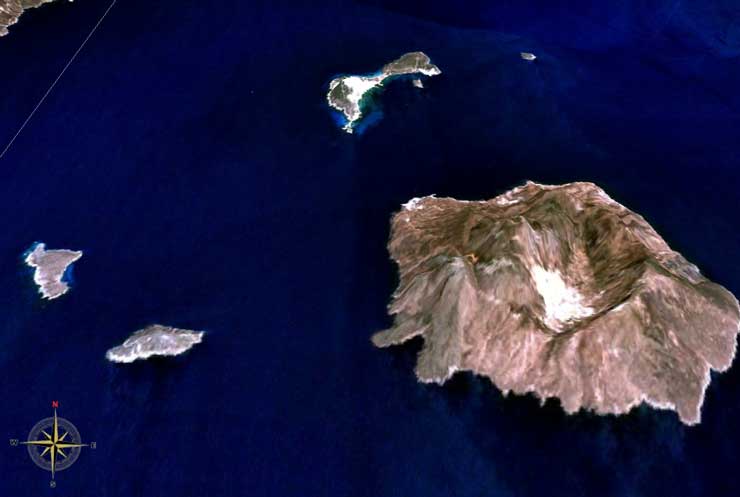 Satellite image of Nisyros island, an active volcano
Nisyros (Greek: Νίσυρος; also transliterated Nissiros) is a volcanic Greek island located in the Aegean Sea. It is part of the Dodecanese group of islands, and lies between Kos and Tilos. Its shape is approximately round, with a diameter about 8 km, and its area is 41.6 km². Several other islets are found in the vicinity of Nisyros, the largest of which is Gyali.
The island has a mountainous interior and in its center several craters are found. Its coasts are generally rocky or pebbled, but there are also a few sandy beaches.

The island is reachable by ship from Pireaus and Kos. There is also a heliport.

The Dodecanese Islands

Agathonissi | Koubelonisi | Stroggyli | Farmakonisi | Arkoi | Kalovolos | Agreloussa | Anydros Patmou | Patmos | Hiliomodi Patmou | Tragonisi | Arefoussa | Leipsoi | Megalo Aspronisi Leipson | Makry Aspronisi Leipson | Kouloura Leipson | Makronisi Leipson | Halavra | Imia | Fragos | Arhangelos | Faradonesia | Leros | Piganoussa | Pitta | Megalo Glaronisi | Mikro Glaronisi | Kalymnos | Kalolimnos | Kalavros Kalymnou | Telendos | Nero | Safonidi | Plati Pserimou | Pserimos | Levitha | Mavra Levithas | Glaros Kinarou | Kinaros | Kos | Gyali | Nisyros | Pergoussa | Paheia Nisyrou | Kandeloussa | Tilos | Antitilos | Gaidourosnissi Tilou | Seirina | Mesonisi Seirinas | Adelfoi Syrnas Islets | Kounoupoi | Koutsomytis | Hondro | Astypalaia | Fokionissia | Pontikoussa | Symi | Nimos | Marmaras | Kouloundros | Plati Symis | Sesklio | Chalki | Agioi Theodoroi Halkis | Alimia | Makry Halkis | Prasouda | Rhodos | Strogulli Kritinias | Htenies | Karavolas Rodhou | Prasonissi Rodhou | Megalo Sofrano | Mikro Sofrano | Astakida | Kamilonisi | Saria | Karpathos | Kasos | Armathia | Makronissi Kassou | Rho | Kastellorizo (Megisti) | Stroggyli Kastellorizou

Ancient Greece

Medieval Greece / Byzantine Empire

Modern Greece

Science, Technology , Medicine , Warfare
, Biographies , Life , Cities/Places/Maps , Arts , Literature , Philosophy ,Olympics, Mythology , History , Images

Science, Technology, Arts
, Warfare , Literature, Biographies
Icons, History

Cities, Islands, Regions, Fauna/Flora ,
Biographies , History , Warfare
Science/Technology, Literature, Music , Arts , Film/Actors , Sport , Fashion