Periphery: Thessaly
Prefecture : Larissa

| | |
| --- | --- |
| | |
Tyrnavos () is a city part of the synonymous municipality in the Larissa Prefecture, Greece. Population 16.900 (2001) (6.3% of the prefecture population), Area 370600 m2 .

Tyrnavos is prefecture's second largest community and Thessaly's third largest which includes the Larissa area. The town is near the mountains and the Thessalian Plain. The Titarisios flows through the town. Tyrnavos is bypasses by the GR-3 (Larissa - Kozani - Niki) and has an old road facing to the west, It will be linked with a superhighway numbered 3 (A3) with an unscheduled opening date.


Tyrnavos is located south-southwest of Thessaloniki and Katerini, northwest of Larissa, east-northeast of Trikala and south-southeast of Elassona and Kozani;


History
Tyrnavos was founded by the general Tourachan who obtained the control of Thessaly in the year 1423 as a gift from the Sultan.
Tyrnavos , older name Trinovos or Trinovon. There are 3 theories about the origin of the name. The first is that it is a slavic name, another theory derives the name from a fish type "Tournes" from the Titaresios river, and according to the third theory it is called after the mountain Ternavon (assumed to be the mountain called now Melouna) mentioned in a manuscript from the 10th century.
In the 17-18 century Tyrnavos had a population of c. 20000. According to O. E. Brown who visited 1666 Tyrnavos there were 18 churches and 3 mosques. In 1806 according to W. Leake there were 1500 families in Tyrnavos (70 Turkish). In 1815 only 3000 Greeks lived in Tyrnavos. In 1817 according to Ioannis Oikonomou there were 1000 families, c. 14 churches, 2 monasteries and 6 mosques. After the Greek war of independence Ioannis Leonardos visited 1836 Tyrnavos. reported a population of 3000 Greeks and 100 Turks . In 1860 the population was c. 5000 Greeks and 100 Turks.
Tyrnavos was part of the Ottoman empire until 1.9.1881. The population of the municipality of Tyrnavos was 11485 in the year 1890.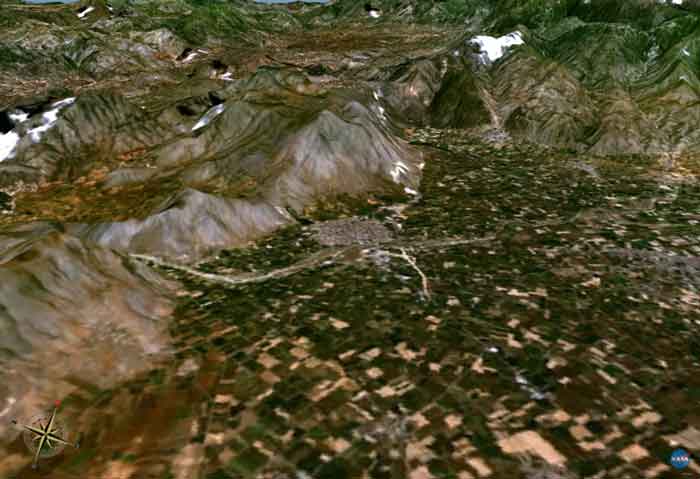 Tyrnavos Satellite Image
Geography

The municipality are made up of mountains covering the northern portion as well as grasslands. Farmlands dominate the southern portion in which it is the Thessalian Plain and the Titarisios valley.



Information

The municipality has the only natural lake in the prefecture in which it has a lot of plants. The lake is located 3 km outside Tyrnavos.

Other

Tyrnavos has schools, lyceums (middle schools), gymnasia (high schoos), banks, churches, a post office, a police station, a pharmacy, restaurants, taverns and a square (plateia).


Mayor of Tyrnavos
Plakas Pantazis (18.11.1891 - 26.11.1957)

Aridas Emmanouil (1892 - 18.4.1982)

Nasikas Dimitrios (23.10.1920)

Hatzikraniotis Iason (1932 - 4.1.1997)

Kougionis Dimitrios (29.7.1952)

Chelidonis Nikolas (1941)

Nasikas Athanasios

Kitsidis Christos
Tyrnavos / Δ.δ. Τυρνάβου [ 12451 ]


Tyrnavos / ο Τύρναβος [ 11116 ]

Kritiri / το Κριτήρι [ 1143 ]

Lygaria / η Λυγαριά [ 79 ]

Perichora / τα Περίχωρα [ 113 ]


Argyropouleion / Δ.δ. Αργυροπουλείου [ 1908 ]


Argyropouleion / το [ 1827 ]

Ano Argyropouleion / το Άνω Αργυροπούλειον [ 26 ]

Votanochorion / το Βοτανοχώριον [ 55 ]


Damasion / Δ.δ. Δαμασίου [ 1469 ]


Damasion / το [ 1374 ]

Damasoulion / το Δαμασούλιον [ 95 ]


Dendra Tyrnavou / Δ.δ. Δένδρων Τυρνάβου [ 1072 ]


Agia Sofia / η Αγία Σοφία [ 52 ]

Dendra / τα Δένδρα [ 491 ]

Platanoulia / τα Πλατανούλια [ 529 ]
Retrieved from "http://en.wikipedia.org/"
All text is available under the terms of the GNU Free Documentation License
Ancient Greece

Medieval Greece / Byzantine Empire

Modern Greece

Science, Technology , Medicine , Warfare
, Biographies , Life , Cities/Places/Maps , Arts , Literature , Philosophy ,Olympics, Mythology , History , Images

Science, Technology, Arts
, Warfare , Literature, Biographies
Icons, History

Cities, Islands, Regions, Fauna/Flora ,
Biographies , History , Warfare
Science/Technology, Literature, Music , Arts , Film/Actors , Sport , Fashion