Hermes, the son of Zeus and Maia. As a messenger God there are many stamps of Hermes. The first Greek stamps, the "Hermes Heads", were issued in October 1861 but they were produced in France. The engraver was Albert Barre. Hermes was the only figure for around 30 years although many versions were produced. Among other things Hermes is also a protector of the Thieves. The Greek post office has Hermes as its symbol.
A Herma is a rectangular pillar with the head of Hermes on the top and the genitals near the base. They were used as markers or boundaries and roads. In 451 BC one night many were destroyed maybe as a protest for the expedition of the Athenians against Syracuse.
Hermes carrying the infant Arcas, who was raised by Maia, the eldest of the daughters of Atlas, the so called Pleiades. Arcas later was placed in the sky as Ursa Major (Great Bear) together with Callisto as Ursa Minor (Little Bear)
Hermes 1935 Greece
Italy 1951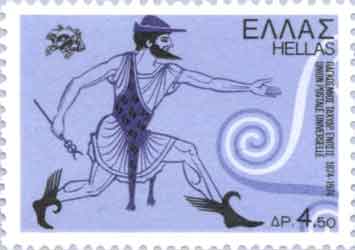 Hermes 1974 Greece
Hermes the Messenger, 5th century BC
The name of the chemical element Mercury (Hg) with atomic number 80 is derived from Mercury (but its name is from "hydros argyros" (liquid silver) and the latinized hydrargyrum.
Hermes and Dionysus of Praxiteles