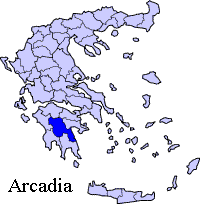 Kosmas (Κοσμάς) is a community in Arcadia, Greece. Population 591 (2001).

Division of the community
Kosmas / Κ.δ. Κοσμά [ 591 ]


Kosmas / ο Κοσμάς [ 581 ]

Moni Elonis / η [ 4 ]

Pigadion / το Πηγάδιον [ 6 ]
Kosmas is a mountain village (1050 m) mentioned first in the year 1592 as Agios Kosmas. The population was 581 in 2001, although it is much smaller in the winter.
Outside the village is the monastery (Moni Eleonis) founded in the 16th century. It contains an icon of Panagia assumed to be the work of the Apostel Luke. The monastery is build on a side of a hill.
Retrieved from "http://en.wikipedia.org/"
All text is available under the terms of the GNU Free Documentation License
Ancient Greece

Medieval Greece / Byzantine Empire

Modern Greece

Science, Technology , Medicine , Warfare
, Biographies , Life , Cities/Places/Maps , Arts , Literature , Philosophy ,Olympics, Mythology , History , Images

Science, Technology, Arts
, Warfare , Literature, Biographies
Icons, History

Cities, Islands, Regions, Fauna/Flora ,
Biographies , History , Warfare
Science/Technology, Literature, Music , Arts , Film/Actors , Sport , Fashion