Statistics
Prefecture:
Ioannina
Province:
Province of Metsovo
Location:
Latitude:
Longitude:

39.817/39°49'6 N .
20.181/20°10'51' E
Population: (2001)
3195
Elevation:
 -lowest:
 -centre:
 -highest:

around 1000 m
1160 m(centre)
around 1,800 m
Postal code:
442 00
Area/distance code:
11-30-26560, (030-26560)-2
Municipal code:
2226
Car designation:
IN
3-letter abbreviation:
MEZ
Metsovo (Greek: Μέτσοβο, Aromanian: Aminciu) is a town in Epirus on the mountains of Pindus in Northern Greece, between Ioannina to the north and Meteora to the south. It is inhabited by some Greek Aromanians or Vlachs. It is bypassed by GR-6 (Ioannina - Trikala) and will be bypassed by Via Egnatia.

The town is famous for its local cheeses (Metsovone and Metsovela) and winemaking industries, including the Katogi vineyard of the Averoff family. A museum named Averoff Gallery is dedicated to Georgios Averoff. Metsovo is also a popular winter vacation destination and a ski resort.

Michail Tositsas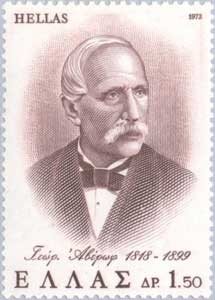 Metsovo is the home of the benefactors Nikolaos Stournaris, Eleni Tositsa, Michail Tositsas and Georgios Averoff, to the honor of whom the National Technical University of Athens is called Metsovion in Greek. Another notable individual from Metsovo is the former minister and former leader of the New Democracy party Evangelos Averoff.


The Metsovo Ski Centre is situated nor far from downtown.


In the 1980s, a tunnel was under construction and was the longest in Greece. It alleviated traffic and does not use curvy roads. In 2006, the connection with Via Egnatia will make the sect of GR-6 (Ioannina - Trikala) into this superhighway and will have two interchanges for Metsovo.


Metsovo, Church, door decoration
| Year | Communal population | Municipal population |
| --- | --- | --- |
| 1981 | 2705 | - |
| 1991 | 2917 | 4125 |
| 2001 | 3195 | 4417 |
In the late 1980s, the communal population of Metsovo surpassed Konitsa making it second largest city in the Ioannina prefecture. The municipal population is smaller than Konitsa which makes it one of the largest.


Municipality of Metsovo, population 4417 in 2001
Metsovo / Δ.δ. Μετσόβου -- το Μέτσοβον [ 3195 ]

Anilion / Δ.δ. Ανηλίου -- το Ανήλιον [ 610 ]

Anthochorion / Δ.δ. Ανθοχωρίου Μετσόβου -- το Ανθοχώριον [ 350 ]

Votonosion / Δ.δ. Βοτονοσίου -- το Βοτονόσιον [ 262 ]

Anilio
Anilio (or Anilion)
Anthochori
Anthochori (or Anthochorion)
Links

Coordinates 39° 49' 6'' N 20° 10' 51'' E
Retrieved from "http://en.wikipedia.org"
All text is available under the terms of the GNU Free Documentation License
Ancient Greece

Medieval Greece / Byzantine Empire

Modern Greece

Science, Technology , Medicine , Warfare
, Biographies , Life , Cities/Places/Maps , Arts , Literature , Philosophy ,Olympics, Mythology , History , Images

Science, Technology, Arts
, Warfare , Literature, Biographies
Icons, History

Cities, Islands, Regions, Fauna/Flora ,
Biographies , History , Warfare
Science/Technology, Literature, Music , Arts , Film/Actors , Sport , Fashion