Greek and Roman Mythology
Michael Lahanas
Verily at the first Chaos came to be said Hesiod in his Theogony, in constrast to the Bible where in the beginning there was Logos and Epicurus a student asked his teacher how this Chaos (or the Logos) came to be. His teacher could not provide a satifactory answer and Epicurus decided to study philosophy.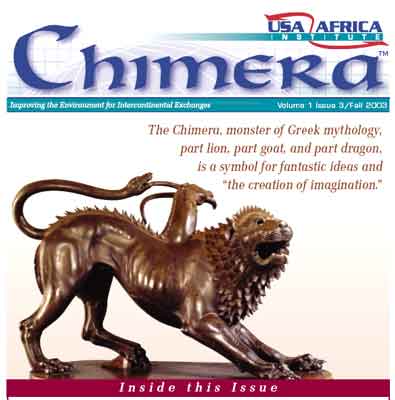 Chimera (), Chimaera (Geography)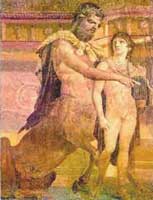 Chiron and Achilles from Herculaneum. The Centaur in a position probably anatomical impossible
The philosopher Wittgenstein said once that there is something odd about all teachers, and that the old Greek myth that made Chiron the teacher of Achilles a centaur was a parable of the teacher not being like other men.
Asclepios was also entrusted to Chiron the centaur for a time, and learned medicine from him. The centaur baby-sitter and pedagogue appears in many myths, for reasons which are not by any means clear. ESP communications have been posited between animals and sensitive humans, especially the very young, and this may be a part of the picture, of which we have only a part. If the horse had an aversion to plants which are poisonous to men, or showed men where sources of salt, a rare material and a necessity to all mammals, existed, stories about the horse's medical knowledge might arise; William Harris, Domestication of Animals. Greek Myth
Chiron () (the centaur asteroid/comet )
Chloris
Chronos (Time)
Chromia
Chrysaor
Chrysippus
Chrysopeleia
Chrysothemis
Chthonic
Chthonios
Chthonophyle
Cilix
Cinadus
Cinyras ()
Circe ( ) ( asteroid )
Cisseus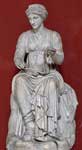 Clotho, Camille Claudel:
A Painting of Cronus eating his children from the dining room of Francisco José de Goya y Lucientes

First of all the deathless gods who dwell on Olympus made a golden race of mortal men who lived in the time of Cronos when he was reigning in heaven. And they lived like gods without sorrow of heart, remote and free from toil and grief: miserable age rested not on them;.. Hesiod Works and Days
[Zeus] himself cast into bonds his aged father Cronus, Aeschylus, Eumenides
Cronus () (Saturn)
Crotopus ()

The statue of Hera is seated on a throne; it is huge, made of gold and ivory, and is a work of Polycleitus. She is wearing a crown with Graces and Seasons worked upon it, and in one hand she carries a pomegranate and in the other a sceptre. About the pomegranate I must say nothing, for its story is somewhat of a holy mystery. The presence of a cuckoo seated on the sceptre they explain by the story that when Zeus was in love with Hera in her maidenhood he changed himself into this bird, and she caught it to be her pet. This tale and similar legends about the gods I relate without believing them, but I relate them nevertheless. Pausanias
Cupid
Cyane
Cyathus
Cybele ()
Cyceon
Cychreus
Cyclops ()
Cyclopean structures

Cycnus ()
Cydippe ()
Cymodoce
Cymothoe
Cynortas ()
Cynossema
Cynosura
Cynurus
Cyparissus
Cypria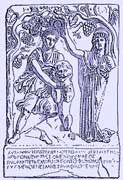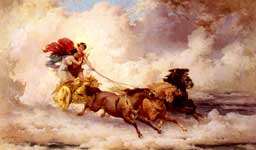 Cyrene wrestling with a lion, Apollo Abducting Cyrene,
Ancient Greece

Medieval Greece / Byzantine Empire

Modern Greece

Science, Technology , Medicine , Warfare
, Biographies , Life , Cities/Places/Maps , Arts , Literature , Philosophy ,Olympics, Mythology , History , Images

Science, Technology, Arts
, Warfare , Literature, Biographies
Icons, History

Cities, Islands, Regions, Fauna/Flora ,
Biographies , History , Warfare
Science/Technology, Literature, Music , Arts , Film/Actors , Sport , Fashion