Periphery:West Greece
Prefecture :
Aitolia-Acarnania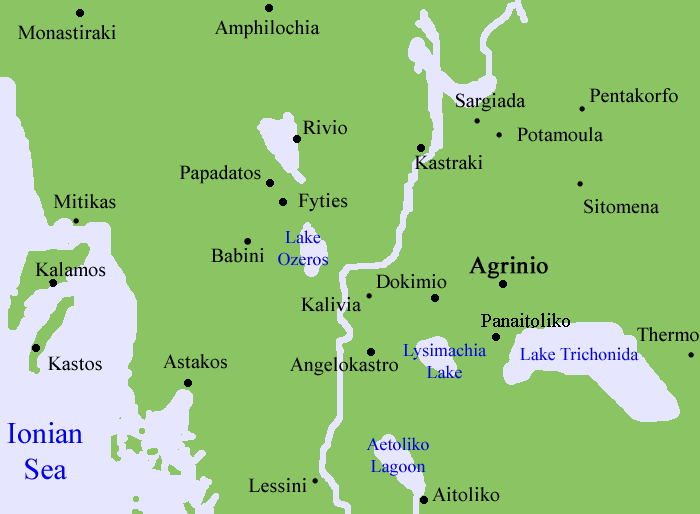 Amfilochia () is a city of the Aetolia-Acarnania prefecture, c. 310 km from Athens. The population was 4681 in the year 2001. Amfilochia is the seat of the synonymous municipality with a population of 12834.
Amfilochia is near the ancient city Limnaea, some walls of which still exist. During the Ottoman Empire period Amfilochia was known as Karvasaras since 1836 (from Caravan Serai , caravan station). It was formed just before the Greek war of independence from population of the village Ambrakia. Karvasaras was renamed in 1907 to Amfilochia.
Amfilochia
Division of the municipality
Amfilochia / Δ.δ. Αμφιλοχίας [4681]


Amfilochia / η [4119]

Limnaia / η [46]

Boukka / η [451]

Platos / ο Πλατός [65]


Ampelakion / Δ.δ. Αμπελακίου [1048]


Ampelakion / το [469]

Amfilochiko Argos / το Αμφιλοχικό Άργος [147]

Ariada / η [82]

Kampos / ο [249]

Keramidi / το [101]


Anoixiatikon / Δ.δ. Ανοιξιάτικου [1644]


Anoixiatikon / το [298]

Agia Trias / η Αγία Τριάς [70]

Katafourkon / το [128]

Mavrorrachi / η Μαυροράχη [82]

Moni Retha / η Μονή Ρέθα [2]

Xirolivadon / το [156]

Petralona / τα Πετράλωνα [124]

Profitis Ilias / ο Προφήτης Ηλίας (τ.Πλακωτή) [183]

Ptelea / η Πτελέα [232]

Skreiko / το Σκρέικο [110]

Triantafylloula / η [87]

Tsoukka / η Τσούκκα [60]

Psila Alonia / τα Ψηλά Αλώνια [112]


Varetada / Δ.δ. Βαρετάδας -- η [294]

Kechrinia / Δ.δ. Κεχρινιάς [757]


Kechrinia / η [474]

Agioi Theodoroi / οι Άγιοι Θεόδωροι [36]

Kanalos / ο [56]

Kompothekla / η [101]

Makrychoria / τα Μακρυχώρια [38]

Falaggias / ο Φαλαγγιάς [52]


Loutro / Δ.δ. Λουτρού [1365]


Krikellos / ο [1325]

Xirakia / τα Ξηράκια [40]


Megas Kampos / Δ.δ. Μέγα Κάμπου (πρώην κοινότητας Βαρετάδας) -- ο [88]

Sardinia / Δ.δ. Σαρδινίων [1078]


Sardinia / τα [1.029]

Kalyvia / τα Καλύβια [49]


Sparton / Δ.δ. Σπάρτου [693]


Sparton / το [616]

Sparton / το Πηγαδάκι [61]

Tria Alonia / τα Τρία Αλώνια [16]


Stanos / Δ.δ. Στάνου -- ο [1186]

Amfilochia Satellite image
Ancient Greece

Medieval Greece / Byzantine Empire

Modern Greece

Science, Technology , Medicine , Warfare
, Biographies , Life , Cities/Places/Maps , Arts , Literature , Philosophy ,Olympics, Mythology , History , Images

Science, Technology, Arts
, Warfare , Literature, Biographies
Icons, History

Cities, Islands, Regions, Fauna/Flora ,
Biographies , History , Warfare
Science/Technology, Literature, Music , Arts , Film/Actors , Sport , Fashion