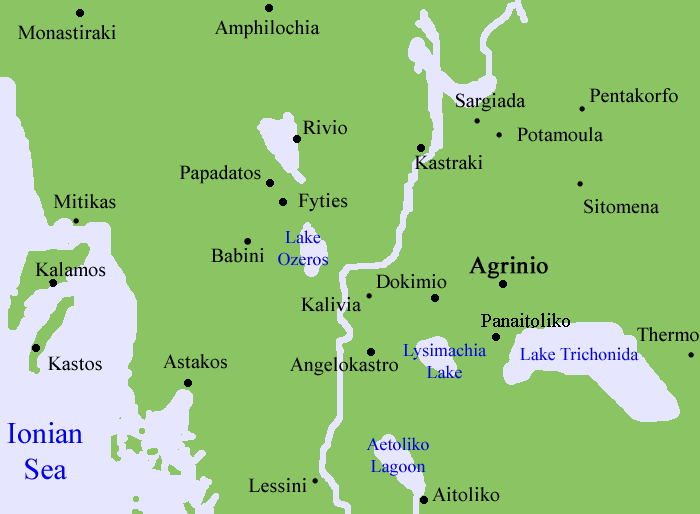 Ancient and Modern Thermo (Image Kostas Koukoulis, Greek Wikipedia)
Thermo is a small city in the Aetolia.Acarnania prefecture. Its population was 2266 in the year 2001. It is the seat of the Thermo municipality with a population 9299. It is 42 km from Agrinio.
Thermo was a center of the Aetolian League. Kosmas Aitolos was born in the village Megalo Dendro (or Mega Dendron) near Thermo .
Place of interest
Trichonis lake near Thermo is the largest in Greece.
Monastery of myrtias build 1491
The church Agios Nikolaos / Taxiarchon in the village Aghia Sophia build using material from an ancient Artemis temple.
The archaeological Museum of the city
Retrieved from "http://en.wikipedia.org"
All text is available under the terms of the GNU Free Documentation License

Ancient Greece

Medieval Greece / Byzantine Empire

Modern Greece

Science, Technology , Medicine , Warfare
, Biographies , Life , Cities/Places/Maps , Arts , Literature , Philosophy ,Olympics, Mythology , History , Images

Science, Technology, Arts
, Warfare , Literature, Biographies
Icons, History

Cities, Islands, Regions, Fauna/Flora ,
Biographies , History , Warfare
Science/Technology, Literature, Music , Arts , Film/Actors , Sport , Fashion